Sturgeon to join Corbyn at Glasgow rally opposing Trade Union Bill
About 2000 people are expected to attend rally at the Glasgow Royal Concert Hall.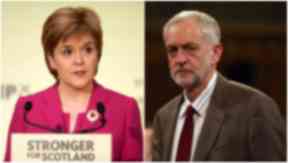 Scotland's First Minister Nicola Sturgeon is to join Labour leader Jeremy Corbyn at a rally in opposition to the UK Government's Trade Union Bill.
About 2000 people are expected to attend the rally at the Glasgow Royal Concert Hall organised by the Scottish Trades Union Congress (STUC).
STUC general secretary Grahame Smith will open proceedings followed by a speech by Glasgow MP Chris Stephens, who is convener of the SNP trade union group and a senior Unison activist.
Lawyer Aamer Anwar and Labour MSP Jenny Marra will also address the rally alongside another unnamed "special guest".
Stop the War in Glasgow have put a call out to anti-war activists to form a picket line outside the Royal Concert Hall to relay their message to the leaders attending the rally.
The rally comes after the Scottish Government formally asked Holyrood to stop Conservative trade union reforms in Scotland.
The unprecedented attempt was rejected by the Scottish Parliament's presiding officer Tricia Marwick.
She said the SNP administration's attempt to use a procedure designed to approve devolved legislation is "not competent" in relation to the reserved Trade Union Bill.
Ms Marwick said this is not sufficient grounds for a legislative consent memorandum (LCM), formally known as a Sewel Motion after the recently-disgraced peer John Sewel who devised the principle that Westminster should not legislate on devolved matters without Holyrood's consent.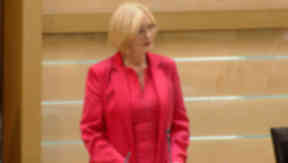 The Scottish Government will now pursue other ways to block the trade-union reforms, which have been overwhelmingly rejected by MSPs, from being enacted in Scotland.
In a letter to Scottish Fair Work Secretary Roseanna Cunningham, Ms Marwick said: "This is the first time that there has been an attempt to lodge an LCM where there has not been agreement between the UK and Scottish governments.
"You have stated in the reasons section of the memorandum you submitted that you believe an LCM applies as the Bill will have a negative impact on devolved public authorities and that there is clear opposition in Scotland to the policy that the UK Government is pursuing through this Bill.
"You also made reference to these reasons in last month's parliamentary debate on the Bill and in the media.
"Having given the matter careful consideration and applying the tests set out in the rules, my view is that the Parliament's legislative consent is not required and it is not competent to lodge a legislative consent memorandum."
She said the Trade Union Bill is not a "relevant Bill" in relation to an LCM as it does not alter the legislative competence of the Scottish Parliament or alter the executive competence of the Scottish ministers.
She said: "If those tests are not met then it remains possible for the Scottish Parliament to debate the legislation at issue, but not under the legislative consent procedure.
"I note that you have indicated publicly that you intend to pursue an alternative form of memorandum to invite the Parliament to express its opposition to the Bill.
"You are aware that there are many ways the Scottish Parliament could consider and take a position on the Trade Union Bill outwith the legislative consent procedure."
In a briefing at Holyrood, a spokeswoman for First Minister Nicola Sturgeon said: "We will seek an alternative means of allowing Parliament to get its objections across.
"This demonstrates the point that we have been making all along that trade-union powers need to be devolved to the Scottish Parliament so that we can properly conduct employee relations in Scotland.
"It is her decision, so we will look at other routes to bring the objections not just of the Scottish Government but of the Parliament as expressed in a previous debate.
We think the Bill will impinge on things like check-off and facility time. It will affect the way that we employ our public-sector workers.
"It affects issues over which we have always had, up to this point, competence: to take time out for trade union work to be conducted and to allow payments to be deducted at source to trade unions as you are allowed to do with charities, for example.
"We think it will have an effect on the Scottish Government's management of its employees.
"We also think the Bill will have an impact on the employment of agricultural workers, which is devolved under the Agricultural Wages Act.
"We will look at proposals around whether there are standing orders around legislative consent motions that we can use."
She confirmed the Scottish Government is still looking at ways to block it and will continue to push for the devolution of trade union law.