Drivers failing in 75% of appeals against council bus lane fines
Bus lane cameras were installed in Edinburgh and Glasgow in April 2012 and Aberdeen in March 2013.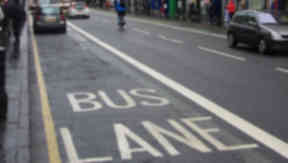 Councils are becoming more adept at enforcing bus lane fines with more than three-quarters of appeals now rejected.
Bus lane cameras were installed in key routes in Edinburgh and Glasgow in April 2012 and in Aberdeen in March 2013.
They got off to a shaky start, with about two-fifths of appeals to the Scottish Parking Appeals Service (SPAS) upheld in 2012/13 (40%) and 2013/14 (38%).
But in 2014/15 the proportion of upheld appeals fell below a quarter (24%), suggesting councils have tightened their enforcement to remove potential grounds for appeal.
SPAS is Scotland's independent adjudicator of parking and bus lane charges, providing an additional route of appeal once all representations to local authorities have been rejected.
Glasgow received the highest number of appeals with 155 in year one, rising to 518 in year two and falling to 325 last year.
Edinburgh receives about a third as many appeals as Glasgow, with 122 last year, but it has become the most successful at defending them.
Just 12% of appeals against Edinburgh fines were upheld last year compared with 28% in Glasgow and 42% in Aberdeen.
This is a substantial reduction from 2013/14, when 48% of appeals were upheld against Edinburgh Council and 33% upheld against Glasgow Council.
Councils have also become slightly more successful in defending parking fines, with the number of upheld appeals falling to 33% in 2014/15 compared with 35% in the previous two years.
Glasgow and Edinburgh account for the majority of parking appeals at 509 and 403 respectively out of a total of 1310 appeals last year.
More than half of parking appeals against Edinburgh (53%) were upheld in 2012/13 but this fell to 42% last year. Appeals upheld against Glasgow rose from 27% to 33%.
Edinburgh Council transport convener Lesley Hinds said: "Enforcing bus lanes is essential to maintaining a smooth-flowing transport system in Edinburgh, where buses are able to bypass queuing traffic during busy periods, encouraging people to choose public transport as a more environmentally-friendly alternative to the car.
"Parking enforcement also helps keep traffic moving while managing demand for space. In addition, any surplus income generated by enforcement is invested back into improving the city's transport infrastructure."