Police probe threats against former Glasgow Central Mosque leaders 
Investigation comes as seven members resigned from executive committee at Scotland's largest mosque.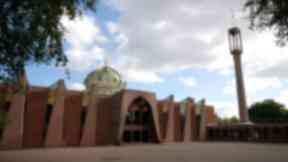 Police are probing threats made against seven former leaders of Glasgow Central Mosque.
The police investigation comes as the seven members resigned from their roles on the executive committee at Scotland's largest mosque.
They said they had "no option" but to step down from the roles amid allegations of threats of physical harm made to their families, including wives and children.
The unrest among management follows a dispute between the committee of Glasgow Central Mosque over planned reforms and previous practices.
The Scottish Charity Regulator and a financial investigator have been looking into loans and the work of previous trustees dating back to the mosque's founding in 1984.
Members of the current committee, led by general secretary Nabeel Shaikh, have now resigned "due to a number of people undermining day-to-day operations, meetings and even sabotaging mosque property".
The charity watchdog is probing claims trustees were making decisions about the running of the charity where they had no power to do so. Claims of financial irregularities are also being probed by the watchdog.
A spokeswoman for Police Scotland confirmed on Wednesday that the alleged threats are being investigated. She said: "The matter is under investigation."
Campaigning solicitor Aamer Anwar, said: "It is a real tragedy that those who bravely led the calls for equality and diversity at Scotland's largest mosque have resigned.
"The fact that they did so because of alleged threats of violence towards their families is abhorrent and criminal.
"This committee had the decency and courage to expose corruption, misogyny and racism, but 'certain' imams and elders tried to destroy them.
"The real danger is that this old guard can never be expected to tackle extremism, whilst they remain stuck in the 'dark ages'. Today is an extremely sad and shameful day for Scotland's Muslims, but it's time the silent majority spoke up."
Chaudhary Shahid, Imran Bashir, joint general secretary Jamil Moghul , president Maqbool Rasul, Munawar Akbar, general secretary Nabeel Shaikh and Rashid Khaliq have all resigned.
They said in a statement: "Due to a number of people undermining day-to-day operations, meetings and even sabotaging mosque property, alongside threats of physical harm to executive members including their wives and children, the following have no option but to resign from the executive committee in order to protest against the backwardness displayed by a minority of people in power."
Caretaker president Dr Shafi Kausar said reports of threats to anyone are "very wrong".
He told STV News: "Nobody has complained - (it is) the first time that I have heard about this. The reports of threats to their families is news to me. None of them have ever mentioned to me.
"There was some misunderstanding going on for a couple of weeks and the election, or as we call it selection, is coming up on March 26, which we have declared.
"I was of the opinion that they were already resigned by declaring the election. Whatever we have to do, we have to discuss it in front of the membership. We should not wash our dirty linen in the open. We should tell the members and there are only six or seven hundred members."