Workers rescued from chemical plant blaze in Glasgow
A level 2 Hazmat Incident has been declared around the Clearwater plant in Bridgeton.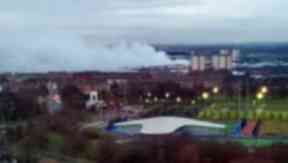 Three factory workers were rescued as firefighters tackled a blaze at a waste treatment plant in Glasgow.
A level 2 Hazmat Incident was declared after crews arrived at the Clearwater premises on Boden Street in Bridgeton to find a fire throwing up "a large amount of smoke and dust".
Three fire appliances are at the scene along with an environmental protection unit.
A scientist is also assisting as emergency services try to ascertain the nature of the incident and whether chemicals could be involved.
As a precaution, nearby streets have been cordoned off and local residents advised to stay indoors and keep their windows closed.
A fire service spokesman said they were called to the incident at 5.30pm on Thursday and there were no casualties.