World's oldest comic book on display in home city of Glasgow
A copy of Glasgow Looking Glass, first published in 1825, forms part of Comic Invention.
Glasgow Looking Glass, the world's oldest comic book, will go on display in the city to celebrate the "birth" of the art form in Scotland.
First published in 1825, 16 years before Punch, it is part of the exhibition at Glasgow University's Hunterian Gallery exploring storytelling through art.
A Swiss comic from 1833 and the earliest American title, The Adventures Of Obadiah Oldbuck from 1842, also form part of the display, Comic Invention, which opens on Friday.
Early comics sit alongside works of Scooby Doo and Batman as well as work by Glasgow artist Frank Quitely, Andy Warhol and Roy Lichtenstein, as curators attempt to highlight the influence of the form.
Glasgow: Birthplace of comics?
Glasgow Looking Glass is considered by many to be the the first comic strip.

Later called Northern Looking Glass, it was a satirical publication which lampooned the fashions and politics of 19th century Scottish society.

It

is thought to be the first to use speech bubbles and the famous "to be continued…" phrase.

Punch magazine is often

touted as the first comic but the

Glasgow Looking Glass

pre-dates

it by 16 years.

Early t

opics included

the building of the Glasgow Necropolis and strips poking fun at the west coast weather.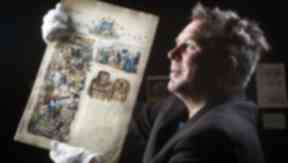 Professor Laurence Grove, lead academic for Comic Invention, said: "This is a unique exhibition. For the first time, comics are being put on an equal footing alongside artworks by the likes of Rembrandt and Warhol, and that is where they belong. They are works of art in their own right."
Printed by John Watson and Co, the first edition of Glasgow Looking Glass took a satirical look at the city and poked fun at political issues and the fashion of the day.
The title later changed to the Northern Looking Glass and ceased publishing in June 1826 but its run influenced more publications like Punch which became national institutions.
John Watson and Co was sold in 2013 after being passed down the Watson family for generations.
Former chairman, also called John Watson, donated a copy of Glasgow Looking Glass to the exhibition and said he is pleased to be supporting it.
He said: "We are able to trace our history as a business as far back as the early 19th century and are thrilled not just to have given a copy of this incredible publication to the university but to be supporting the exhibition financially.
"I am no doubt Comic Invention will capture the public's imagination and be a truly fascinating insight into the world of comics."