Glasgow imam criticised for supporting Islamist assassin
Maulana Habib ur Rehman used the Whatsapp messaging service to praise the actions of Mumtaz Qadri.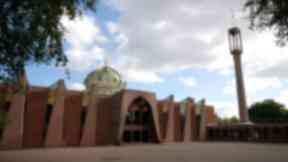 The imam at Scotland's largest mosque has been criticised for speaking out in defence of an extremist who was executed for murdering a Pakistani politician.
Maulana Habib ur Rehman, leader of Glasgow's Central Mosque, used the Whatsapp messaging service to praise the actions of Mumtaz Qadri, who was hanged in February for the murder of Punjab governor Salman Taseer.
Mr Taseer was targeted for criticising Pakistan's strict blasphemy laws, which have been subject to international condemnation for being discriminatory to minorities in the country.
The murder of Mr Taseer was a polarising event in Pakistan as fundamentalists lauded Mumtaz Qadri's actions, hailing him as a martyr while moderates viewed him as an extremist.
Imam Maulana Habib ur Rehman, however, apparently sympathised with Mr Qadri, describing him as a "true Muslim" in a series of messages to members of the mosque.
In one message, he claimed Mr Qadri was simply acting on behalf of the majority of Muslims: "According to some he was a murderer but to many others he did what was the collective responsibility of the ummat [community]."
In another, he expressed his personal sorrow at Mr Qadri's execution, saying: "I cannot hide my pain today. A true Muslim was punished for doing which the collective will of the nation failed to carry out."
Mr Rehman has defended his actions, claiming his comments have been taken out of context, and that he was in fact criticising Pakistan's use of capital punishment.
In a statement, the imam said: "Mumtaz Qadri's execution is condemned as it is not in accordance with due process nor is it in accordance with Islamic teachings and principles.
"Capital punishment on this particular occasion was inappropriate and any expressions of sympathy or compassion are extended in my capacity as a private individual and not in any professional or public capacity."
His comments were criticised by lawyer and activist Aamer Anwer, who told BBC Scotland that concerns had been raised that his views would "filter down the Muslim community and radicalise our children".
The Central Mosque has been no stranger to controversy in recent months, with the Scottish Charity Regulator criticising the manner in which the mosque had been run in an official report in January while financial investigators cited concerns that it was potentially vulnerable to money laundering.