Investigation after explosion leaves shop badly damaged
Specialist investigators will spend Sunday trying to determine the cause of the incident.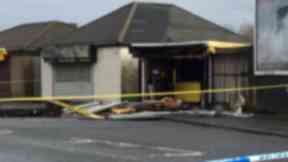 The front of a shop in East Renfrewshire has been badly damaged following a late night explosion.
Emergency services were called to the scene at sports supplement store Muscle Junction on Barrhead's Glasgow Road at around 11.07pm on Saturday night.
A spokesman for the Scottish Fire and Rescue Service said: "Just after 11pm there was a fire and a small explosion in a small protein shop.
"There has been an internal explosion, and we don't know why, and it has taken out the frontage of the shop.
"When we arrived we required two sets of breathing apparatus and a hose-reel to extinguish the blaze.
"We had two appliances - one from Barrhead and one from Pollock - at the scene.
"It was a very minor incident apart from the explosion."
The surrounding area has since been cordoned off by police and fire officers.
The spokesman added that specialist teams would spend Sunday trying to determine the cause of the incident.
"The incident is under investigation just now and out fire investigation team will be at the scene on Sunday," he added.
"It will be a multi-agency investigation."