Asad Shah murder accused claims responsibility for religious killing
Tanveer Ahmed released statement through lawyer after appearing in private at court.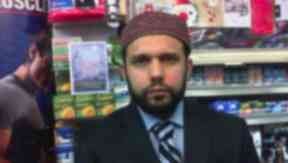 A man accused of murdering a shopkeeper has issued a statement claiming responsibility for the killing, saying it was religiously motivated.
Tanveer Ahmed, 32, appeared at Glasgow Sheriff Court on Wednesday charged with murdering Asad Shah outside his store in the south side of the city last month.
Ahmed, of Bradford, made no plea or declaration but issued a statement through his lawyer following the private hearing, saying he had done it because Asad Shah claimed to be a Prophet.
Mr Shah belonged to the Ahmadi sect of Islam, a minority community which has faced persecution from other Muslim groups.
The highly unusual statement was made through Ahmed's lawyer, John Rafferty, after his second appearance at court before Sheriff Brian Adair.
Ahmed made no plea during the private court appearance and was remanded in custody.
The statement given reads: "My client Mr Tanveer Ahmed has specifically instructed me that today, April 6 2016, to issue this statement to the press, the statement is in the words of my client:
"This all happened for one reason and no other issues and no other intentions. Asad Shah disrespected the messenger of Islam the Prophet Muhammad peace be upon him. Mr Shah claimed to be a Prophet."
It continued: "If I had not done this others would and there would have been more killing and violence in the world."
Mr Shah, 40, was found with serious injuries outside his shop on the evening of March 24, after being allegedly attacked outside his shop Shah's Newsagents in Minard Road, Shawlands, Glasgow.
He was rushed to the Queen Elizabeth University Hospital where he was pronounced dead on arrival.