Hillwalker rescued after plunging down cliff on island
A major search was launched after the 67-year-old man fell while out walking in Arran.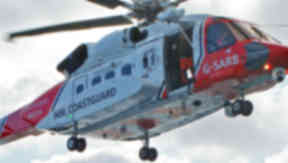 A 67-year-old hillwalker was rescued after plunging down a cliff on a Scots island.
A major search was launched after the man fell while out walking in Arran off the Ayrshire coast on Wednesday.
The man activated his personal emergency beacon after falling from a steep cliff in Coire Daingean area of the island and injuring himself.
The beacon alerted the local mountain rescue team and a nearby hillwalker also alerted the team after hearing a whistle being blown by the injured man.
He was found on "very steep" ground and a coastguard helicopter called in to airlift him to hospital.
A statement from Arran Mountain Rescue Team said: "The team were called out yesterday afternoon after a hillwalker had activated their personal emergency beacon sending an SOS message direct to local response teams.
"Another hillwalker in the area had also alerted the police after hearing whistle blasts in the Beinn Tarsuinn area.
"The team deployed the Argo Cat to reach the area quickly and a search got under way to locate the casualty.
"HM Coastguard were deployed to assist and after a short while the casualty was sighted on some very steep ground below the head wall of Coire Daingean on the Glen Rosa side.
"The casualty was treated for his injuries and uplifted to hospital."