Tunnock's caramel wafers stolen while laptop left in suitcase
Thieves take the biscuit as they leave Glasgow man with valuables after raid in Ghana airport.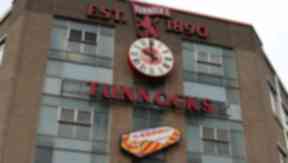 Thieves raided a man's suitcase and stole his Tunnock's caramel wafers while leaving his laptop and mobile.
Michael Paterson, 26, was at Accra Airport in Ghana on his way to starting a charity trip to an orphanage in the African country.
While at the airport, Mr Paterson, from Partick, in Glasgow, realised his suitcase had been damaged and broken into.
A number of valuable possessions including his mobile phone, laptop and a projector, as well as football strips, were still in his case.
But he realised the wafers he was planning to give to the family he was staying with as a present had been taken.
Mr Paterson said: "I could not believe it. I searched high and low but traced them going missing to what happened at the airport.
"I thought it had been some security check on my cases and when I saw the valuable stuff was still there I was happy to carry on my way.
"I had been out in Ghana before and I knew they liked Scottish things and I thought the caramel wafers would go down a treat."