Donald Trump protesters in talks with police before visit
Hundreds of demonstrators expected to attend US presidential hopeful's visit to Turnberry.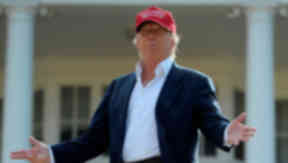 Police have spoken to a number of protest groups ahead of Donald Trump's visit to Scotland.
Hundreds of demonstrators are planning to gather at the US presidential hopeful's South Ayrshire golf resort on Friday as he attends its official relaunch.
The Stand Up To Trump protest is being staged at Turnberry after almost 587,000 people signed a petition calling for the billionaire to be banned from entering the UK.
Mr Trump is travelling to Scotland for the reopening of the resort following a £200m refurbishment but protesters say he is not welcome, claiming he has "ramped up levels of racism, Islamophobia, and bigotry" during his presidential bid.
Police Scotland said it is working closely with other agencies ahead of the visit and revealed it is in contact with a number of protest groups.
A statement from the force said: "We do not reveal operational detail around security issues. Police Scotland has consulted with a number of protest groups in order to facilitate peaceful protest. This will be policed appropriately on the day."
The presumptive Republican candidate's proposed policies include building a wall on the country's border with Mexico and temporarily banning Muslims from entering the US.
The protest is supported by a number of organisations including Stand Up to Racism Scotland, the Glasgow Campaign to Welcome Refugees and Unite the Union Scotland.
Keir McKechnie, spokesman for Stand Up to Racism Scotland, said: "His message of hate is one that we'll challenge and we would not encourage anyone to support him in his presidency.
"Although this protest happens to be taking place in Scotland, we want to represent people across the whole of the UK and beyond who reject Trump's racism and Islamophobia."
Jonathon Shafi, coordinator of Scotland Against Trump, has organised coaches to take protesters to Turnberry.
He told the BBC: "We'll be organising a protest which will reflect the broad opinion of Scots that his values are incompatible with ours. The demonstration on Friday, I think, will reflect that very well."
Mr Shafi added Mr Trump's brand is "damaging to the Scottish economy"
The residents of the Menie Estate in Aberdeenshire have agreed not to protest during the presidential hopeful's visit to Trump International Golf Links on Saturday.
Local resident David Milne said: "Defending my home from this man and his team has cost the best part of ten years. I'm not going to waste any more time on him."
Download: The STV News app is Scotland's favourite and is available for iPhone from the App store and for Android from Google Play. Download it today and continue to enjoy STV News wherever you are.