Homes evacuated after building collapse in Glasgow
The wall of a restaurant roof garden fell 20ft onto a street in Glasgow's west end.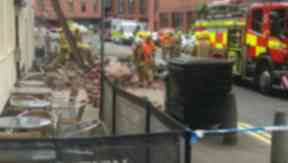 Residents were evacuated after the wall of a restaurant roof garden collapsed onto the pavement in a Glasgow street.
Emergency crews were called to the building in the Partick area of the city around midday on Saturday.
Residents from a nearby block of flats and a customers at a pub were evacuated by firefighters, after the bricks fell around 20ft to the ground.
The junction at Dumbarton Road, Byres Road and Coopers Well Street was closed and Benalder Street was sealed off as emergency services dealt with the incident.
Rubble was lying in the street near outdoor tables and chairs as police and firefighters remained at the scene.
The collapse took place near the popular La Riviera restaurant, in an area with many pubs and shops in the west end.
A fire service spokeswoman said no one was injured in the incident. Crews had helped to evacuate members of the public from the area and cleared the debris.
Group manager Brian Winter added: "Our priority was to ensure the safety of the public so we carried out an evacuation and then conducted a thorough search. All persons were accounted.
"The wall was right above the restaurant, surrounding its roof garden, and a part of that wall fell around 20ft onto the pavement below.
"We have now cleared that debris from the area and made the scene safe."
Glasgow City Council's building control team have been notified of the incident and were attending the scene.