Tributes flood in for boxer Mike Towell who died after fight
Family and manager pay tribute to one of the 'greatest characters' who died doing what he loved.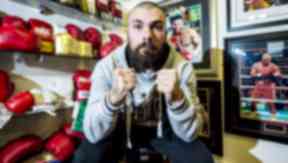 Scots boxer Mike Towell has been described as a "special man" and "greatest character" as emotional tributes flood following his death after a bout.
Towell, 25, was stretchered from the ring after being stopped by the referee in the fifth round of his bout against Welshman Dale Evans at Glasgow's Radisson Blu Hotel on Thursday night.
Towell fell to the canvas at the conclusion of the fight run by the St Andrews Sporting Club before doctors rushed into the ring to offer medical attention and provide him with oxygen.
The father, who has a young son named Rocco, battled on for almost 12 hours after being taken off life support and his family and manager, who were at his bedside in hospital, have been left devastated by the loss.
His manager Tommy Gilmour said Towell was one of the "greatest characters" he has ever met while girlfriend Chloe Ross revealed she was "absolutely heartbroken" but her partner of eight years had "left doing the thing he's best at".
Tributes have also flooded in from around the world of boxing with dozens of big names in the sport offering their condolences including top promoter Eddie Hearn and former world champions Tony Bellew and Alex Arthur.
An online fundraising page was also set up by boxing hero and former world champion Ricky Hatton for the family of Towell.
Towell, from Dundee, was knocked down in the first round and then again in the fifth round before referee Victor Loughlin stepped in to wave off the bout, which was broadcast on STV Glasgow and STV Edinburgh.
The welterweight fighter, nicknamed "Iron" Mike, was taken to hospital in Glasgow but was pronounced dead early on Saturday.
His girlfriend, Chloe Ross, wrote on Facebook: "I'm absolutely heartbroken to say my annoying best friend passed away tonight at 11.02 very peacefully.
"It has been the longest 24 hours of our lives. My baby has lost his daddy. But he will be so so proud of his dad in what he achieved.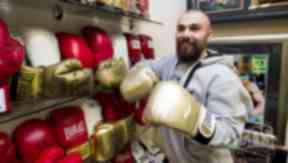 "Today once he was taken off of his life support he managed 12 hours, 12 whole rounds off his life support, he fought right to the end and he's done us all so proud and I'm so glad I got to spend 8 and a half years with the absolute plonker and still have the best thing that ever happened to us.
"Rocco, a part of him with me forever, but defo No boxing! He left doing the thing he's best at. There's only one Iron Mike Towell."
She also revealed that Towell died from severe bleeding and swelling to his brain and had been complaining of headaches in the weeks leading up to the fight.
However, a spokesman for St Andrews said that nobody in Towell's management team was aware of any headache problems leading up to the fight.
His manager Tommy Gilmour travelled to the hospital with Mike alongside St Andrew's Sporting Club director Iain Wilson and spent much of the last 36 hours at the bedside vigil with the family.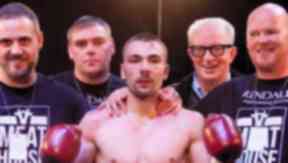 Mr Gilmour said: "He was Iron Mike to the end, he kept fighting 'til the last and we have lost an exciting boxer but, more importantly, a very special man.
"I am devastated and all my thoughts are with Mike's mum Tracey, his partner Chloe and their little son Rocco.
"He was one of the greatest characters I have worked with, I came away from every phone call or chat we had smiling and shaking my head in bewilderment.
"Mike died doing what he loved best, boxing. He put so much into every part of his life, both inside and outside the ring."
Alex Arthur, former world super featherweight champion, also paid tribute to father-of-one Towell.
He told STV News: "A young fighter that I've met and seen box before and know has been coached very well, it's a really hard one to swallow. It's horrific.
"I've met Mike a few times and could tell he was going to be a fighter who would be dangerous. He was aggressive, a big puncher and dedicated.
"He seemed like a very outgoing lad, a nice lad, and clearly wanted to make a life for himself in the sport. It's tragic"
St Andrew's Sporting Club owner Iain Wilson said: "He wasn't just a fighter at our club, he was my friend and a special heart and soul guy. I was with the family through the night after the fight, they are heartbroken and everyone at the Club shares their grief.
"We promoted nine of Mike's 13 fights, six of them were in the St Andrew's Sporting Club and our members loved watching him doing what he loved best.
"We have lost one of our favourite sons and boxing has lost an explosive talent but the biggest loss of all is for the Towell family. We will rally round them now to do all we can."
Boxing veteran Ricky Hatton MBE has set up a JustGiving fund to raise #20,000 for Towell's family.
On the page, which generated almost £9000 within an hour, he wrote: "Mike Towell lost his life doing either what he loved or looking after his family - or both.
"A young boy and partner are left behind let's make sure they are looked after."
Greg Menzies, head coach at Dundee Boxing Club, said: "We're obviously devastated for him and his family. It's a small community so everybody's really shocked.
"He was a really nice guy, always winding up people in a good way. He was a really good guy and he'll be certainly missed.
"A lot of guys in our gym are gutted, as even though he was maybe from another club, he was still a Dundee guy and he trained at every gym and he got on with everybody.
"He was one of Dundee's top boxers so he was an inspiration for the young kids. We're all gutted."
A spokesperson for STV said: "We offer our deepest sympathy to the family of Mike Towell at this tragic time."