Football club superfan honoured on strip after cancer battle
Mark Allison's face and signature will appear on the home top until the end of the season.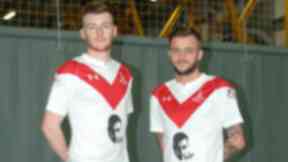 A well-known Airdrieonians fan who died after a battle with cancer will feature on the club's home strip, it has been revealed.
The League One team from North Lanarkshire announced on Friday that Mark Allison's face and signature would appear on the home strip until the end of the season.
The club said decision "met with the approval of Airdrie fans everywhere".
The Airdrie man was told in 2014 he had just three months to live but went on to fight the aggressive illness until 2016.
It is the first time in football the image of a fan has appeared on a club shirt, Airdrieonians said.
Mr Allison, who lost his battle with pancreatic cancer in July, has been remembered as an "enthusiastic" football supporter and fearless fundraiser.
His F**k Cancer campaign raised more than £70,000 for a number of charities, including St Andrew's Hospice.
In his final months the fan was cared for by the hospice, as well as Maggie's Lanarkshire at Monklands Hospital.
Close friends and family were consulted in advance for their blessing on Mr Allison's face adorning the strip.
Mark's sister Julie Timmons, said: "I think it's amazing - Mark would be ecstatic, a dream come true.
"Incredible but truly deserved, in my humble opinion. I just wish he was here to see it."
Mark's close friend Sandy Basu was moved to tears on the news.
He said: "Nearly six months ago to the day, June 11, Mark Allison completed his last fundraising campaign for F**k Cancer with a sponsored walk through the streets of Airdrie.
"It started at Airdrieonians Football Stadium and ended at Maggie's Cancer Centre at Monklands Hospital.
"At this time he had raised over £73,000, a remarkable achievement. These were two places that were entrenched in his heart and wherever he is fund raising now will remain."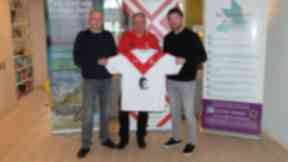 Airdrieonians Supporters Trust will sponsor the new strip, which goes on sale on Saturday before their clash with Stenhousemuir.
As part of the five-figure sponsorship package, the trust will continue to provide funds for St Andrew's Hospice and Maggie's Lanarkshire, in honour of the dedicated fan.
Club chairman Tom Wotherspoon said: "Firstly, I want to thank the trust for not just this financial backing but everything that they do for the club.
"The relationship between both parties are excellent. I recognise and admire that they always have the best interests of the club and its supporters at heart, and this is another example of them providing the club with financial assistance to hopefully kick on and get out the division."
He added: "As for Mark, I met him lots of times, more than most people will know about.
"He would often just appear at my office unannounced after visiting the hospital for treatment, and would come in for a coffee and a blether. He would phone me for hours on end, discussing ideas and plans.
"His enthusiasm was infectious for this club and I am glad that his legacy continues to live on."