Boy found hiding in bushes after 'escaping human traffickers'
The 16-year-old Vietnamese boy was found in West Dunbartonshire and has now been taken into care.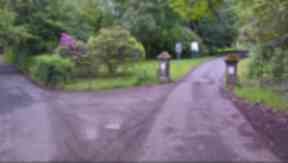 A 16-year-old boy from Vietnam was found in Dumbarton after apparently escaping human traffickers.
The teenager was found "cowering" in bushes near the Overtoun House estate by a member of the public.
The Vietnamese boy is believed to have been taken to Russia before he was found in West Dunbartonshire on January 16.
He is thought to have escaped from a vehicle and ran for about an hour before he was discovered. Police were alerted and the boy was taken into care the following week.
Officers say he was in a "distressed" state when he was found and his welfare is paramount.
They are still investigating how he came to be there and have appealed for anyone with information to come forward.
Chief superintendent Grant Manders revealed the incident during a West Dunbartonshire Council meeting last week.
Chief supt Manders told the meeting: "A young Vietnamese boy - 16 years old - came into our care having been trafficked from Vietnam to Russia.
"Smashing wee boy escaped his traffickers up in West Dunbartonshire and was found cowering in the bushes having escaped from wherever he might have been going."
Detective inspector Andy Doherty said: "He was found in quite a distressed state.
"We quickly established that he was of Vietnamese origin and he stated that he was subject to a human trafficking. His welfare is paramount.
"Enquiries are ongoing."
Amnesty International, which has campaigned against human trafficking in Scotland, said it hoped the boy could find a new home.
Naomi McAuliffe, the charity's Scotland programme director, said: "Vietnam has some serious human rights issues; there are severe restrictions on freedoms of expression and association, with the media and legal system under state control.
"Vulnerable people are often subject to human trafficking - our research shows that a number of asylum seekers fled to neighbouring Cambodia and Thailand in the last two years.
"We are glad Police Scotland are offering assistance to the young man who escaped from traffickers and hope he can be safely resettled."
Anyone with information has been asked to contact police via 101 or the charity Crimestoppers anonymously on 0800 555 111.