Member of Kriss Donald abduction gang changed name to hide past
Story emerged after Zahid Mohammed, now Yusef Harris, appeared in court for driving at police.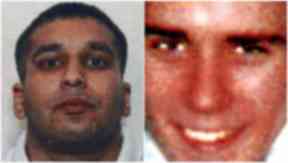 One of the men convicted of the abduction of murdered teenager Kriss Donald changed his name to hide his notorious past, it has emerged.
Zahid Mohammed returned to the High Court in Glasgow on Wednesday more than a decade after he was jailed for five years for his part in the crime which shocked Scotland.
A judge heard Mohammed is now known as Yusef Harris after he changed his name following his release from jail after serving only two and a half years.
Harris, 33, from Thornliebank, Glasgow, was jailed for four years for threatening to murder a man who demanded to know why he had four teenagers locked in his car, driving his car at police officers and having a knife in his car.
He was also banned from driving for five years. Prosecutor Tim Niven-Smith revealed that Harris was charged in 2004 with the abduction and murder of Kriss.
Mr Niven-Smith added: "The Crown ultimately accepted that the accused was not present when Kriss Donald was brutally murdered by others.
"On November 1, 2004, at the High Court in Glasgow the accused pleaded guilty to assault to injury, assault and abduction and an attempt to defeat the ends of justice and was sentenced to five years in custody and five years monitoring in the community.
"After his release from custody the accused changed his name to Yusef Harris, perhaps due to the notorious nature of the murder of Kriss Donald."
Harris admitted having a knife, committing a breach of the peace and driving his Volkswagen Golf towards police in Kennieshead Road, Thornliebank, on March 26, last year.
He also pleaded guilty to resisting arrest at his home in Main Street, Thornliebank, the same day.
The court heard that he was being pestered by teenagers jumping in and out of his car as he sat eating chips and asking him to buy them cigarettes.
Eventually, he got so fed up he locked four of them in his car for a few minutes. One of the boys kicked out when he realised the car had been locked.
A man out shopping, Brian Spence, went over and asked Harris why he had children in his car.
The teenagers got out the car and Harris then picked up a box of Budweiser belonging to Mr Spence and threw it into the road, before returning to his car. As he drove off Harris shouted at Mr Spence: "I'm going to murder you."
One of the teenage boys had noted Harris's car registration number. When officers saw the vehicle they motioned for it to stop, but Harris accelerated towards them and they had to jump out the way.
Later that day Harris's lashed out at police when they arrived at his home. A search of his car revealed a knife in the glove box.
Defence QC Brian McConnachie said Harris had recently bought the car and did not realise there was a knife in it.
Mr McConnachie said that Harris had given evidence in two murder trials against Kriss Donald's killers.
He added: "He gave evidence that at least played a part in bringing to justice those convicted of the murder of Kriss Donald.
"He now considers that given the notoriety of the case in which he was involved his only option when he is released will be to leave the area. His intention is to move to London."
Judge Lady Rae told Harris: "You drove your car towards police officers. I take a serious view of this."
Kriss Donald was murdered in March 2004 after being abducted in Pollokshields in a racially motivated attack. Four men are serving life for his murder.