Patient died after getting penicillin despite allergy
NHS Lanarkshire apologies to woman's family for 'serious failings' in care.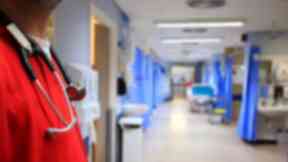 A patient died after she was given penicillin despite doctors being told she was allergic to the medication.
NHS Lanarkshire has been blasted over the "serious failings" in the care of the woman, who died in intensive care at Monklands Hospital in Airdrie.
The woman, referred to as Mrs A in a watchdog report, was taken to hospital suffering increased breathlessness.
She was then given a dose of penicillin despite her husband, referred to as Mr C, telling ambulance and hospital staff about her allergy.
The mistake was then not noticed until Mrs A's daughter - Ms B - who is a nurse herself, read her mother's medical notes at the hospital and saw she had been given Amoxicillin, a penicillin antibiotic, earlier in the day.
She told nurses straight away about the mistake but they "failed to take corrective action and to conduct increased observations" and there was also failure by medics to record the incident.
NHS Lanarkshire has now apologised for the failings to Mrs A's family after a report by Scotland's public services ombudsman upheld all of their complaints and issued several recommendations.
The board acknowledged Mrs A was "unreasonably prescribed and administered" Amoxicillin when she "had a known allergy", that the response from medical and nursing staff was "deficient" and that there were failures in record-keeping.
The ombudsman report says: "Mr C said that he had made both ambulance and hospital staff aware that Mrs A was allergic to penicillin and that, previously, penicillin had caused Mrs A to suffer anaphylactic shock.
"Mr C said that thereafter Mrs A's condition deteriorated. Mr C said that although Ms B had immediately informed a member of the nursing staff of the prescribing error, staff had failed to take corrective action and to conduct increased observations of Mrs A.
"Mr C said there was also a failure to document the incident in Mrs A's medical records at the time and again when Mrs A was later transferred to the Intensive Care Unit (ICU)."
It adds: "Mr C considered that Mrs A had been denied proper treatment for the possible adverse effects of an anaphylactic reaction to the Amoxicillin.
"Regarding Mr C's complaint that Mrs A was unreasonably given Amoxicillin when she had a known allergy to penicillin, the medical and the nursing advisers said that while what had occurred in Mrs A's case was a human error, the failure by staff to follow drug administration policies was a serious incident and represented serious failings in care.
"I was concerned by the serious failings identified in Mrs A's care and treatment and in view of these failings, I upheld all of Mr C's complaints."
Irene Barkby, director of nursing, midwifery and allied health professions, said: "We aim to provide the highest standard of care at all times and therefore deeply regret any instance where we fail to meet this standard.
"It is clear from this report that the care and service we provided fell below the standards any patient should expect from NHS Lanarkshire.
"We fully accept the Ombudsman's recommendations and we will once again be writing to apologise to the family for the failings identified in this case and for the distress caused.
"Since January 2015, a great deal of work has taken place to avoid similar incidents including introducing more robust measures to enhance medicine management."
Download: The STV News app is Scotland's favourite and is available for iPhone from the App store and for Android from Google Play. Download it today and continue to enjoy STV News wherever you are.