Young woman suffers indecent assault after night out
The 21-year-old woman had been making her way home in Glasgow city centre.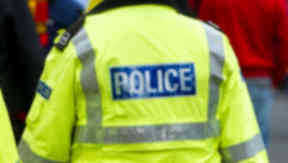 A young woman was the victim of an indecent assault as she made her way home from a night out in Glasgow.
Officers have praised people who came to the aid of the young woman after the incident in the early hours of Saturday on Renfield Street, in the city centre.
The 21-year-old victim was sitting in a doorway waiting for a taxi near West Regent Street when she was approached by a man who started speaking to her.
He touched her inappropriately on her legs before leaving the area in an unknown direction.
Police said she was unharmed but left in a state of shock after the incident, which took place shortly after midnight.
The suspect is described as a white Scottish man, around 5ft 8in tall, with a medium build, a gaunt appearance and short light hair. He is between 30 and 40.
At the time of the incident, the suspect was wearing dark trousers, a white shirt, a black cardigan or waistcoat over the shirt and a light coloured jacket.
He was also wearing baseball style shoes or boots with a light coloured toe.
Detective constable Paul Houston, of Glasgow city centre CID, said: "A young woman was left in a state of shock having been touched inappropriately as she made her way home following a night out. We have launched an investigation to trace the man responsible.
"We have been analysing CCTV and speaking to some witnesses following the incident. We know there are more people who are yet to come forward.
"Two men, one of whom was wearing glasses and also a baseball hat in reverse, stopped and challenged the man as they made their along Renfield Street.
"Minutes later, another two men came to her aid and challenged the presence of the suspect in the company of the young woman. This resulted in the suspect leaving the area.
"They assisted the woman and flagged down a passing ambulance so that she could be checked over."
He continued: "The men left the area once the woman was safely in the company of medical staff. I want to commend them for their actions and would ask them to come forward and speak to police with any information they have. It could assist us in tracing the man responsible and ensuring that he is held to account for his actions.
"They are described as being white men, both with brown hair, aged 25 to 30 years old and dressed in dark clothing.
"I would also ask anyone who witnessed the incident to speak to police with any information you have.
"You may have witnessed a group challenging an individual matching this description, or witnessed the suspect making his way out of the city centre."
Anyone with information can contact police via 101, or the charity Crimestoppers on 0800 555 111 where information can be given anonymously.