Baby wallaby dies after youths 'cause havoc' at fun farm
CCTV released of five youths who chased three wallabies around Dalscone Farm Fun.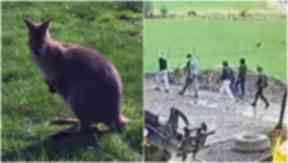 A baby wallaby has died after it was "traumatised" by a group of teenagers at a fun farm.
Bosses at Dalscone Farm Fun in Dumfries said five boys chased the park's three wallabies around their enclosure on Saturday evening.
Two of the animals escaped but a third - a "joey" or young wallaby, called Mick - was so distressed it died on Sunday evening despite the efforts of a vet to save it.
The group of boys were said to have been "causing havoc" at a nearby garden centre before they tormented the wallabies.
A statement on the Dalscone Farm Fun Facebook page said: "They let two of [the wallabies] out of their enclosure and the third was so traumatised it died on Sunday evening.
"Does anyone know who they are? They had been causing havoc at Heathhall garden centre before heading here. It all happened between 5.50pm and 6.50pm.
"Any information would be greatly appreciated. Please call 101 to let police know any potential leads.
"Thanks to Alistair from Nithsdale vets for all his hard work to try to save Mick our baby wallaby."
The park has an indoor play centre and collection of animals including llamas, donkeys and ponies. The outdoor farm park was due to open in April.
Police Scotland have been informed and officers visited the farm on Monday.
PC Kennedy Anderson said: "We understand this incident has caused considerable distress to the local community and we are keen to trace those responsible.
"We are following a positive line of enquiry, however I would ask anyone who has any information or who may be able to help us identify these individuals to call police at Dumfries on 101."