Watchdog probes Glasgow axe attacker's death in custody
He attacked a man with an axe in the city centre before taking his own life.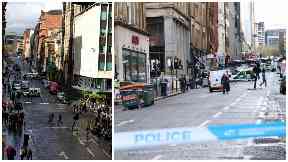 The death of a man who carried out an attack with an axe before taking his own life is being investigated by a police watchdog.
The 33-year-old died in custody at Glasgow Royal Infirmary after the incident on West Nile Street on Thursday.
Shortly earlier he had assaulted a man near Drury Street in what police described as a "targeted attack" and injured a community warden who tried to intervene.
The attacker, who was also carrying at least one knife, was disarmed by officers using incapacitant spray after inflicting fatal wounds on himself.
The Crown has ordered the Police Investigations and Review Commissioner (Pirc) to examine the incident.
The investigation will focus on the circumstances leading up to the man's death in custody, a Pirc spokesman said.
Meanwhile, the Scottish Police Federation (SPF) has urged Police Scotland to reconsider the routine arming of officers.
SPF chairwoman Andrea MacDonald said: "Whilst not detracting in any way from the courage of the police officers who attended, the fact no armed officers were dispatched to a man attacking others with knives and an axe should be deeply worrying.tp
"Glasgow is a city with an almost permanent armed police presence but they were not dispatched and they did not attend."
Assistant chief constable Wayne Mawson said the force "prides itself in being an unarmed service".
"Thursday's incident in Glasgow city centre was a dynamic and fast-moving incident," he said.
"Local officers responded rapidly and contained and dealt with it quickly.
"This was not a random attack. It was planned and targeted, and armed officers were not required to attend on this occasion."