Bath death woman scalded when 'carer left hot tap on'
Margaret Gilchrist received 24/7 care from Enable Scotland in Glasgow when she died.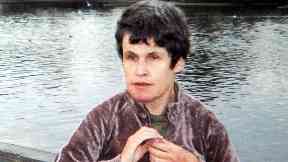 A vulnerable woman died from scalding injuries in the bath as her carer committed an "enormous human error" by leaving the hot water tap running.
Hot scalding water was found to be a "significant contributory factor" in the death of Margaret Gilchrist, who had a severe learning disability and was registered blind.
The 50-year-old received 24/7 care from Enable Scotland at her home on Carntyne Road in Glasgow at the time of her death in September 2013.
In a determination released on Tuesday, sheriff Lindsay Wood said: "The scalding accident which contributed to Margaret Gilchrist's death might have been avoided if the hot water tap was not left running and if visual checks had been made whilst she was in the bath every three minutes or less."
Support worker Mary Cameron had run a bath for Ms Gilchrist. She told police she thought she had turned off the hot water tap at this point.
Sheriff Wood noted: "Given what happened thereafter, it seems apparent that the hot water tap was not turned off fully."
Ms Cameron discovered Ms Gilchrist "unresponsive" in the bath with water flowing over it on to the floor.
The care user had suffered scalding injuries to 80-90% of her body, the fatal accident inquiry found.
Mr Wood concluded the lack of a "sufficiently detailed risk assessment in respect of the bathing of Margaret" as well as direct instructions to staff to ensure the hot water tap was switched off contributed to the death.
In his findings, the judge noted Ms Gilchrist was left in the bath alone for more than 30 minutes.
Support worker Ms Cameron did not make any "visual checks" on the vulnerable woman during that time frame, the judge said.
The sheriff said: "Support worker Mary Cameron relied on listening for Margaret although she had switched on the radio and the television was on downstairs.
"The various support workers who gave evidence said that they would have carried out a visual check every couple of minutes, every few minutes or every three or four minutes.
"Had those visual checks been made, there is a strong possibility that Mary Cameron would have noticed that the hot water tap was still running and the level of the bath water had increased or she would have noticed visible signs of distress from Margaret."
He added: "There was no detailed system in place requiring staff to carry out very regular visual checks on Margaret while she relaxed in the bath.
"Had such a system been in place and adhered to then it is probable that the support staff would have been alerted to any developing situation. Accordingly, this lack of detail contributed to Margaret's death."
The sheriff also found the bathing plan for Ms Gilchrist was "defective" as it "did not stress the need to turn off the hot water tap and failed to specify the frequency and nature of checks to be made during the period Margaret was left to relax in the bath".
The inquiry heard of a similar scalding incident involving the vulnerable woman in November 1998, during which she "squealed, which was described as an unusual sound but not a loud one".
Ms Gilchrist was unable to raise the alarm or call for help because of her learning disability, the judge found.
He said: "Margaret's ability to summon assistance whilst in the bath was compromised due to her learning disability and she would very rarely be able to vocalise when she was in pain.
"She would not cry if she was in pain and would also 'go into herself' if unwell. She could be vocal and made loud noises but she could not shout for help."
'[The carer] committed an enormous human error that evening... she will require to live with it for the rest of her life.'

Sheriff Wood on Mary Cameron
Another factor which contributed to the fatal scalding of Ms Gilchrist was the lack of an appropriate thermostatic mixing valve (TMV) in the bathroom.
It controlled the mix of hot and cold water supplied to the bath, but had not been updated by Glasgow Housing Association, which owned the property, when it was meant to be in 2010. Sheriff Wood said if it had been installed the old valve which was in place "may not have malfunctioned and there would not have been hot water scalding."
The judge also reflected on the impact the death had on Ms Gilchrist's carer at the time.
He said: "Clearly, this has been a traumatic and hugely difficult time for Mary Cameron, who committed an enormous human error that evening and such is the magnitude of the error that she will require to live with it for the rest of her life.
"She was called as a witness at this inquiry and due to the fact that she had not been granted immunity from prosecution by the Crown, she was properly and professionally advised not to say anything which might incriminate her.
"Accordingly, she did not have an appropriate opportunity of telling the inquiry what she remembered from the events that night and nor was she able to express her deep regret and offer her heartfelt apologies to the family as I expect she would have wanted to have done."
He added: "As a consequence, Margaret's family were denied the benefit of such honesty and disclosure which may have been a helpful cathartic experience for everyone.
"It is noted by this inquiry that Mary Cameron's employment was terminated by Enable Scotland and she no longer works in the care sector."
Download: The STV News app is Scotland's favourite and is available for iPhone from the App store and for Android from Google Play. Download it today and continue to enjoy STV News wherever you are.