Boys, aged 15 and 16, in hospital 'after taking LSD'
The teenagers required treatment after consuming the drug in Glasgow.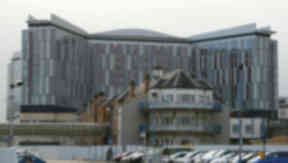 Two teenagers have been taken to hospital after they are believed to have taken LSD.
A 15-year-old was taken to hospital for treatment after taking unwell in the Mosspark area of Glasgow.
Emergency services attended the teenager after he is believed to have consumed acid.
Less than a week later police were called to reports of a boy, aged 16, taking unwell after taking the drug in Helen Street in Govan.
Both boys received treatment at the Queen Elizabeth University Hospital before being released.
Inspector Kevin Lammie said: "Two teenage boys have ended up in hospital and these incidents should serve as a reminder of the dangerous of taking drugs and substances that you simply do not know the true contents of.
"Police Scotland will continue to work with its partners to raise awareness of these dangers in schools and our communities to encourage young people to make positive lifestyle choices."
The first incident took place around 9.10pm on Sunday April 16, while the second occurred at 1.40pm on Friday April 21.
Anyone with concern about drug activity in their area can contact the police on 101.