Whyte 'wanted Ticketus out of Rangers takeover papers'
Ex-business partner said ticket firm did not want to disclose deal to Murray Group.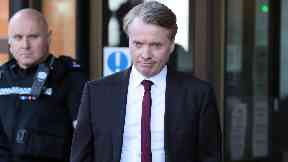 Craig Whyte told accountants to remove Ticketus from documents relating to his Rangers takeover, a trial has heard.
His former business partner Phil stated documents showing money provided by the leasing firm were instead replaced with the word Wavetower, the name of the company set up by the businessman to buy the club.
On Friday, the High Court in Glasgow was shown an email from Mr Betts to an employee at Saffrey Champness, which was providing financial advice on the deal.
Mr Betts, who became a director of Rangers after the sale of majority shareholding to Whyte from the Murray Group in 2011, wrote in the email: "Remember not to make any reference to the Ticketus arrangement and you will need to amend the forecasts accordingly."
Asked by advocate depute Alex Prentice QC if the cash flow documents showing Wavetower instead of Ticketus would be misleading, Mr Betts replied: "It would be misleading."
In his agreement to buy Rangers, Whyte agreed for Wavetower to be assigned an £18m debt from Lloyds Banking Group owed by the club.
Mr Betts was asked which party wished to disguise Ticketus' involvement in funding the deal.
He stated: "Ticketus didn't want Murray to know they were working on this transaction. They asked Mr Whyte to sign a non-disclosure agreement."
Asked if he had "any view on what might happen if Murray knew about it", Mr Betts answered: "Ticketus said they would be concerned Murray would approach them for the funds to pay Lloyds, and they would say no to that."
The witness was pressed on the existence of a loan agreement between Rangers and Wavetower for £16m, which Mr Betts said he had no recollection of signing.
Having been reminded by the prosecution that he had "immunity" and would "not be prosecuted as a result of any" of his answers, he was asked if he could remember the proposition of such an agreement.
He stated: "I don't recall right at this minute. But I'm a little bit stressed at the moment. If I sat in the waiting room for 10 minutes I might recall."
Whyte, 46, denies a charge of fraud and another of breaching the Companies Act in relation to his 2011 takeover of the Ibrox club.