Waverley steamer celebrates 70 years since maiden voyage
The Glasgow vessel is the world's last sea-going paddle steamer.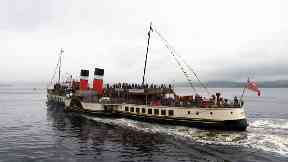 Glasgow celebrates 70 years since the Waverley steamer's maiden voyage.
To mark the occasion, the paddle steamer set off from the Glasgow Science Centre and retraced the steps of her maiden voyage on a cruise to Loch Long.
Named after Sir Walter Scott's first novel, the vessel was built on the Clyde in 1946 and launched in 1947 to replace the original Waverley that sunk off Dunkirk during active war service in 1940.
In 1974, at the end of her working life, she was famously bought for £1 by the Paddle Steamer Preservation Society.
The world's last sea-going paddle steamer then began a second career as one of the country's best-loved tourist attractions.
The year of celebration includes sailings at 1947 prices, free tickets for children who bring a birthday card for Waverley and a balloon race.