Driver cleared of dangerous driving over toddler's death
Clinton Pringle was knocked down and killed by Rebekah Le Gal in Jersey.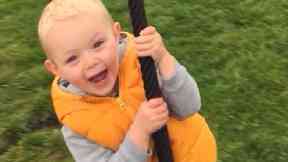 A driver has been cleared of dangerous driving after her car knocked down and killed a Scottish toddler on holiday in Jersey.
Three-year-old Clinton Pringle, from Glasgow, died after being struck by Rebekah Le Gal's Volkswagen Transporter van in the island capital, St Helier, last June.
She had faced trial accused of causing death by dangerous driving but was found not guilty by jury on Monday. However, she had previously admitted a lesser charge of causing death by careless driving.
The prosecution alleged the 39-year-old accused was using her mobile phone when she rounded the corner of Tunnell Street and struck Clinton as he crossed the road to get to Town Park in St Helier.
Her defence team said she did use her mobile on Tunnell Street but stopped texting about 25 seconds before the collision, meaning she was not driving "dangerously" at the time.
Le Gal was ordered to return to court on July 27 to face sentencing for the lesser charge.