Driver seriously injured in head-on smash on the A71
Five people, including two young boys, were injured in the crash on Thursday.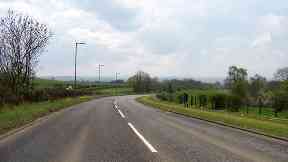 A driver has been left seriously injured following a head-on crash on the A71.
The 36-year-old reportedly lost control of his car on the road near Stonehouse at 8.25pm on Thursday, causing it to cross into the opposite lane.
The Audi A3 collided with another car travelling in the other direction, leaving him badly injured.
He was flown to Queen Elizabeth University Hospital in Glasgow by air ambulance, where he is being treated for multiple serious injuries.
A 31-year-old man who was a passenger in the car was also injured, although his wounds are not thought to be life-threatening.
A 42-year-old woman who was behind the wheel of the Audi A4 they collided with was taken to Wishaw General Hospital, along with two boys.
The woman and an eight-year-old were released after receiving treatment, while a five-year-old boy remains in hospital with a leg injury.
Police Scotland has asked anyone who witnessed the crash to contact officers.