Buckfast sales highest in Glasgow as company profits soar
Sales from the tonic wine have reached £26.9m across the UK in the last year.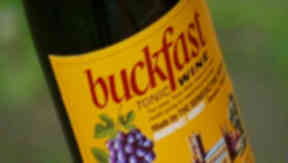 Buckfast sales have hit a record high with people in Glasgow buying the tonic wine most often.
Sales from the controversial drink have reached £26.9m across the UK in the last year.
New figures have revealed people in Glasgow are the most likely to buy the controversial tonic wine.
But the popularity of Bucksfast is now spreading in the south of England with sales growing by £2m and 7.9 per cent in the past year.
The fortified wine has been made by Benedictine monks at Buckfast Abbey in Devon since the 1920s.
It is repeatedly associated with violent crime and antisocial behaviour.
The rise in sales have placed the brand in 91st place in The Grocer magazine's table of Britain's biggest alcohol brands.
Chef Martin Blunos has been enlisted by the firm to associate the drink more with food, while the company is also working with mixologists on cocktails.
Buckfast sales manager Stewart Wilson said: "We are no different from any other alcoholic beverage that is out there.
"Politicians have used Buckfast to get their names in lights."