House set alight with two people inside in Helensburgh
The pair managed to escape the deliberate fire in the early hours of Saturday.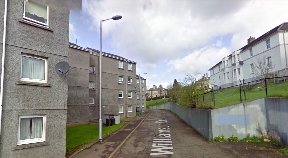 A house was deliberately set on fire with two people inside in Helensburgh.
Emergency services were called to the scene on Williamson Drive at around 3.30am on Saturday after a report of the front door being alight.
The pair were able to escape and nobody was injured but there was minor fire and smoke damage to the door of the property.
Police are treating the incident as wilful fire-raising and are carrying out door-to-door enquiries.
Detective sergeant Jonathan MacKinnon said: "We are in the process of reviewing any potential CCTV footage that could assist the investigation but I am appealing to anyone who may have any information about the incident to come forward.
"If you were in the area of Williamson Drive in Helensburgh in the early hours of the morning or if you live there and saw or heard anything unusual or suspicious, please get in contact with information.
"Luckily no one was injured and emergency services were able to extinguish the fire quickly but there was the potential for extensive damage.
"I am appealing for anyone with any information, no matter how small it may seem, to get in touch with us and pass it on."
Those with information are asked to contact CID officers at Helensburgh Police Office on 101 quoting incident number 0819 of July 15.
Alternatively, Crimestoppers can be contacted on 0800 555 111 where information can be passed on anonymously.