Guide dog saved deaf-blind woman from attack by youths
Jumble's barking alerted a Good Samaritan when Lisa Halley was targeted in Glasgow.
A deaf-blind woman's guide dog came to her owner's rescue after she was attacked by a gang of youths in Glasgow.
Lisa Halley, 27, was returning to her home in Dundee when a group of around 12 teenagers surrounded her on Buchanan Street as she walked towards the train station on Friday evening.
They began taunting and swearing at her and tripped her up, before the group surrounded her.
As she lay terrified in the heavy rain Ms Halley's guide dog, Jumble, began barking loudly.
The dog's noise attracted the attention of a man walking by who told them to leave and helped Ms Halley to her feet.
Ms Halley, has very limited sight and is registered blind, now wants to get in touch with whoever helped her to thank him.
Due to her limited vision she is unable to provide a description of the man or those who attacked her.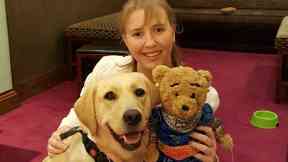 She told STV News via email: "There were at least 12 of them. After the abuse, swearing and shouting - 'Look at the stupid dog leading the stupid blind girl' - they then kept jumping in front of me at the last second.
"As I couldn't see them at side of me, causing me bang into them, they began shouting 'Oi, watch where you're going, stupid blind girl.'
"Then they tripped me up, causing me to fall hard on the pavement."
She added: "Then they circled around me laughing, when I fell Jumble barked and I just held Jumble to make sure they didn't touch her.
"I was so terrified as they closed in circle. How could kids be so horrible?"
Someone passing by heard Jumble, a Labrador retriever, barking and chose to intervene.
He told the teenagers to "go away" and helped Ms Halley to her feet.
She continued: "Sadly I do not know the man name that saved me, whoever you are thank you so much, thank you for not just walking past.
"Thank you for being so brave and stepping in to help."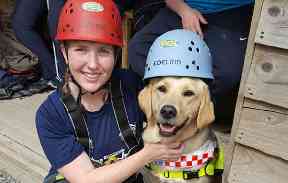 Her mother Gaynor said Ms Halley, a student who enjoys volunteering, has been reluctant to return to Glasgow following the incident.
Gaynor said: "She loves Glasgow and she felt safe there but she doesn't feel safe there any more.
"The guy appeared out of nowhere to help her, if it wasn't for him I don't know what would've happened."
A post on a Facebook page set up for Jumble, where Ms Halley thanked the man who had helped her, has been shared dozens of times.
Ms Halley has been diagnosed with Usher syndrome, a condition that causes deafness and vision loss, and was given Jumble in March 2016.
She was returning home from volunteering at the Ignition motoring festival at the SEC when the attack took place.
She said Jumble had been her "hero" during the incident, which left her with a sore leg.
The 27-year-old said: "I may be scared to walk through Glasgow on my own at the moment but I will be back, as Glasgow is full of amazing kind-hearted people."