Brother picks up medal for soldier killed 60 years ago
The presentation of the Elizabeth Cross was made to Private Ben Doherty's brother Tony.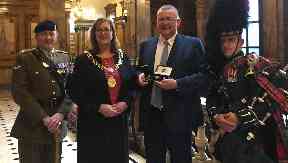 The brother of a Glaswegian solider has been presented with the Elizabeth Cross more than 60 years after his death.
Private Ben Doherty, 18, of Bavelaw Street in Glasgow, was part of the 1st Battalion Highland Light Infantry serving in Cyprus as part of the Cyprus Emergency Peace Keeping Force in January 1956.
Ben had been enjoying an off-duty game of football at Lefkoniko with his comrades when a bomb located at a nearby water fountain exploded.
Colleague Matthew Neely died instantly, while Ben and John Beattie survived the initial blast and were taken to the military hospital in Nicosia, where they later died of their injuries.
Lord provost Eva Bolander, in her role as lord lieutenant, made the presentation to Ben's 57-year-old brother, Tony Doherty.
Ms Bolander said: "It's important that families of these soldiers do receive some recognition of their service.
"Conflict visits great costs on everyone who loses a loved one. It's my honour and pleasure to be able to present the Elizabeth Cross.
"I know that it's a source of great pride and comfort to surviving family members."
Tony, a telecoms service manager with NHS Greater Glasgow and Clyde, said: "I'm very proud. Sadly, I didn't know my brother.
"He was the eldest of nine children, two girls and seven boys. I remember his picture always had pride of place in the living room.
"His death devastated my mother Margaret and father Ben. They explained to me that he had died in Cyprus when a bomb exploded in a well while he had been playing football."
The Elizabeth Cross was created to provide national recognition for the families of armed forces personnel who have died on operations or as a result of an act of terrorism.