Demolition order for home of woman last seen by carers
Margaret Fleming has been missing for almost ten months from her home in Inverkip.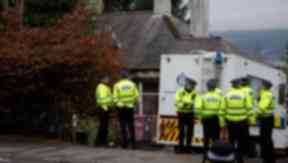 The home of a woman missing for ten months could demolished after being declared unfit for human habitation.
An international police search was launched after Margaret Fleming was reported missing from her home in Inverkip, Inverclyde, on October 28 last year.
Police were alerted to her disappearance by her carers Edward Cairney, 75, and 56-year-old Avril Jones.
They are the only people to have seen the 36-year-old, who has learning difficulties, since a family gathering in December 1999.
A search at the property in Inverkip lasted several months and was eventually extended into the River Clyde and nearby woodlands.
Her carers were given a six-week ultimatum on Monday to bring the cottage up to standard or see it demolished.
A spokesman for Inverclyde Council said: "Our priority is to prevent anyone living in the property as it is in a serious state of disrepair, below the tolerable standard and therefore unfit for human habitation.
"The owner has six weeks to organise the demolition or arrange with the Council to have the property repaired."
The order is not linked to Ms Fleming's disappearance, it is understood.
Earlier this year detective chief inspector Paul Livingstone said it would be "foolish" to rule out the possibility that something "sinister" had happened to her.