Bearded pipers give their facial fuzz a tartan twist
Bonnie Beard Booth is offering makeovers for Piping Live! in George Square, Glasgow.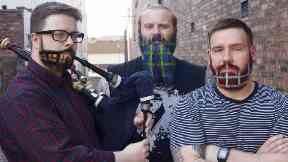 Men have been given the option of sprucing up their beards during the Piping Live! festival in Glasgow.
The Bonnie Beard Booth was offering men the chance to turn their beards tartan on George Square.
The booth was run by beard experts Braw Beard Oils, which enabled to choose from a variety of tartans and styles.
Festival director Roddy MacLeod said: "We're delighted to add the Bonnie Beard Booth to this year's festival, where bearded pipers and kilties can take their image to the next level."
Beard care expert and Braw Beard Oil founder John Jackson said: "Men around the world are embracing their facial hair - there's been plenty of variations from glitter beards to bauble beards - and this is another great example of how you can have some fun with it."
About 40,000 people are expected to flock to Glasgow for 150 free and paid-for events in various venues across the city as part of the festival, which culminates in the World Pipe Band Championships on August 12 and 13.