PayPal cancels raffle to win seven-bedroom mansion
Anyone who entered the competition through the site should expect a refund.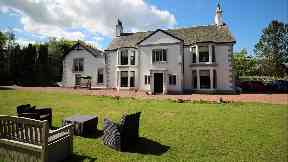 Entries to win a seven-bedroom £625,000 mansion in North Lanarkshire has been cancelled by a transfer website.
Thousands of people are set to have their money refunded after PayPal cancelled the account, saying it was necessary "in order to protect customers".
The luxury house boasts an open fire, billiards room, triple garage, one acre of private, landscaped gardens and a heated outdoor swimming pool with a sauna.
Just days after the competition gained national attention, Shamus Fitzsimmons was told by PayPal that his account was suspended.
An email from PayPal informed Mr Fitzsimmons he had breached its terms.
It said: "In the PayPal acceptable use policy it is explained that pre-approval is required for any activity with an entry fee and a prize.
"No pre-approval was sought or obtained for the type of transactions you wished to receive through the PayPal account."
PayPal said it will be refunding all entries made, which is believed to be around £71,000.
A spokeswoman for PayPal told STV: "We have seen an increase in the number of people setting up house prize draws in recent years, as homeowners seek new ways of disposing of their property in a challenging housing market.
"These prize draws present an unusual challenge.
"They are difficult to carry out successfully and carry considerable risks, such as the possibility that the property is not accurately described; or that the draw is not conducted fairly; or that entries are made from countries where such prize draws are unlawful.
"After much consideration, we have decided not to allow PayPal to be used to buy tickets for entry to house prize draws in the UK in order to protect consumers, PayPal and the people running such draws from these risks.
"We are sorry to disappoint anyone seeking to use PayPal to run a house draw, but believe this is the right and responsible thing to do."
Entries are still available via bank transfer.