Glasgow City Council staff in major equal pay victory
Thousands of former and current female workers to benefit after Court of Session ruling.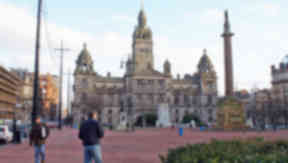 Thousands of current and former staff at Glasgow City Council have won a major victory in a long-running equal pay court case.
The Court of Session published a ruling on Friday saying the council's pay arrangements may have been less favourable to women in low paid jobs.
The case was brought by Action 4 Equality Scotland (A4ES), which represents 6000 claimants, and the union Unison, which represents 1400.
A4ES, which began its campaign in courts and employment tribunals in 2005, says the ruling will open the door to more claims from those who left the council in the last five years.
It pointed out large differences in pay between jobs which were traditionally male and female.
Judge Lord Menzies' decision ruled new pay arrangements set out by the council in 2007 may have been decided on an unfair basis.
The council said the ruling was "complex" and discussions would continue with trade unions.
Stefan Cross QC said: "This is really great news for thousands of low-paid women workers across Glasgow who put their trust in A4ES to get the job done.
"We have been saying for years that the city council could not justify paying highly skilled, hard-working staff like home carers so much less than gardeners, gravediggers and refuse workers."
He added: "There is now bound to be a huge influx of new cases against the city council, which faces a mammoth bill of £500m after stubbornly refusing to face up to its equal pay obligations for the past 12 years.
"Once again we urge Glasgow city council to get round the table to resolve these issues once and for all."
Mike Kirby, Unison's Scottish secretary, said: "This judgment that the Glasgow scheme is flawed is great news for low-paid women workers.
"The way Glasgow rates and pays workers has been the source of conflict and division for ten years."
Glasgow City Council leader Susan Aitken said: "This is a complex ruling about a complex matter. It is right that the council takes some time to consider the immediate impact and wider ramifications of this ruling.
"Council officers will require time to consider all the implications of this ruling but I have instructed them to continue to speak to the trade unions about the application of the pay and grading scheme."
She added: "We have recently settled the long running janitors' dispute and we are actively working with the trade unions to settle all cases relating to pay protection, where a number of women continued to be paid unequally even after the introduction of the new pay and grading system.
"The city government was elected on a commitment to improve industrial relations in Glasgow City Council, including resolving inherited outstanding equal pay cases.
"Today's ruling has not changed that position."
Download: The STV News app is Scotland's favourite and is available for iPhone from the App store and for Android from Google Play. Download it today and continue to enjoy STV News wherever you are.