Mother's grief year after young son Lennon killed by van
Lennon Toland, five, was killed after being struck down on his way home from school last year.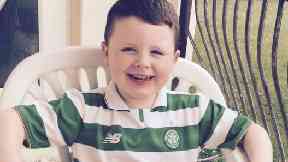 The grieving mother of a five-year-old boy who was killed last year has told how she still says goodnight to her son as if he's still there.
Leanne Toland said she also hasn't washed the clothes her son Lennon was wearing on the day he died.
Still struggling with the ongoing heartache of losing him, Leanne says she dressed a teddy in her son's pyjamas to feel closer to him.
Lennon, who had just started at St Paul's primary school in Shettleston, Glasgow, was killed after being hit by a van on September 12, last year.
A year on since they lost their son, Lennon's family have spoken of their loss as the anniversary of his death approaches.
Lennon's 27-year-old mother says she continues to be haunted by thoughts about her son's final moments.
"I can still remember sitting on the couch and zipping his jacket up, walking him to the door, kissing him and telling him to have a good day at school," says Leanne.
"I told him how much I loved him. I never thought that would be the last time I would see him.
"I've not washed the pyjamas he had on that morning. I put them on his Tigger so when I'm cuddling it, I feel like I'm cuddling him.
"I still say goodnight to him as if he's still there, so he can hear me and I still do our Spiderman kiss."
Lennon was walking home from school with his dad, Andrew Murray, last year when tragedy struck.
The youngster had bent down to pick up some stones on Dalness Street when a driver mounted the pavement to gain access to a makeshift car park and struck him.
Andrew pulled his son from beneath the van but his injuries were so severe that he could not be saved.
"The one thing that keeps tormenting me is, did he hear the van? I don't want him to have heard it and been scared," says Leanne.
The family say they often go back to the place where tragedy struck to remember their son.
"It's good to still go up to the gates because I know he was happy doing what he was doing," says Leanne.
"You feel daft because you're standing at the gate and there's not a wee bench or anything.
"I know he would have been happy because he was always happy and he loved his stones."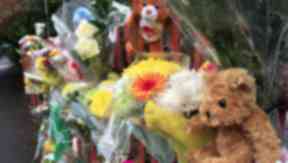 In the months before his death, an excited Lennon had been looking forward to welcoming his baby sister.
Leanne was six months pregnant when her firstborn was killed.
Before he passed away, Lennon had picked out the baby's name and, after giving birth just a few months after she lost her little boy, Leanne decided to respect his wishes.
Crystal, now nine months old, has been a lifeline for the family.
"Lennon picked the name Crystal but I liked Lucy - he kept arguing with me about it," says Leanne.
"People say 'you've got Crystal and she'll bring you a lot of joy', but she'll never replace him.
"I'm still waking up every day without him. I think Crystal knows all about her brother. She'll just stare at the pictures of him and my mum all the time."
"I told him how much I loved him. I never thought that would be the last time I would see him."

Mother Leanne Toland
Lennon's grandad Brian Toland and uncle Declan Toland have been campaigning to have a swing park built on the land where the youngster was killed.
Lennon's gran, Karen Pearson, who passed away from cancer five months after the tragedy, created a petition urging the council to make the change.
Speaking at the time, she said the family wanted the land to be turned into something positive for the children who witnessed the accident.
Declan has since re-launched the petition which has attracted more than 7,000 signatures but has yet to receive the council's go ahead.
Download: The STV News app is Scotland's favourite and is available for iPhone from the App store and for Android from Google Play. Download it today and continue to enjoy STV News wherever you are.