Woman reunited with engagement ring she lost in straw pit
Lynn Stevenson has showered praise on staff at Briarlands Farm for their help.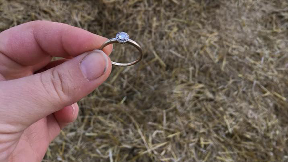 A woman has showered praise on farm staff after they found her diamond engagement ring a day after she had lost it in a straw pit.
Lynn Stevenson from Glasgow took to social media to tell of her experience at Briarlands Farm near Stirling, where she had been on a family day out last Saturday.
Posting on the Glasgow With Kids Facebook page which she runs, Ms Stevenson said she realised during the day both her wedding and engagement rings had slipped off her fingers in the farm's straw pit.
After a relatively short search, her husband was able to recover the wedding ring but they searched in vain for the engagement ring until it became too dark and they went home.
It was "the best definition of 'needle in a haystack' I'll ever come across", she wrote.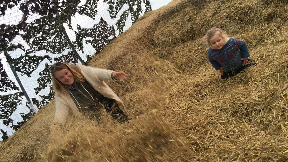 Ms Stevenson added: "We had buckets and were sieving through the straw for a good while before it got too dark and late and we had to get the kids home."
She described staff at the farm also helping sieve through the straw long into the night, with head torches and metal detectors, and then again on Sunday morning, when Ms Stevenson and her husband also returned.
"It had been just myself and Mary (she and her husband run the farm) left sieving for a while and we'd gotten through a lot of the pit but the 'to sieve' pile was getting much smaller, along with my hope of finding it," she said.
"Then Mary sticks a metal detector in a pile we haven't gone through yet and it beeps. We start sieving through that pile... And OMG it plops into her bucket."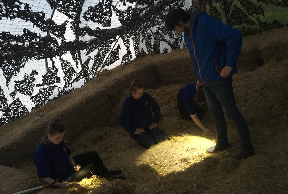 Briarlands Farm, which is just a short walk from Blair Drummond Safari Park, is a working mixed farm which also offers a shop and kitchen with regional produce and home baking.
Outside it boasts a "fun yard" including a straw mountain tower for children to climb, go-karts and a tyre maze.
Ms Stevenson's Glasgow With Kids blog is dedicated to finding fun activities and places to visit for mothers with young children in and around the city.
The farm, she says, went above and beyond in helping her find the precious diamond ring.
"There aren't very many places that would go to that effort to find a ring in a pit of straw," Ms Stevenson wrote.
"Massive props and huge huge thanks to all the staff at Briarlands Farm. You won't get better customer service than that anywhere."
Download: The STV News app is Scotland's favourite and is available for iPhone from the App store and for Android from Google Play. Download it today and continue to enjoy STV News wherever you are.