Scot 'tortured and electrocuted' by police in India
Jagtar Singh Johal, of Dumbarton, allegedly had a sack thrown over his head by officers.
A Scot arrested in India is said to have his genitals electrocuted while being tortured by police after being arrested.
Jagtar Singh Johal, who has lived in Dumbarton for 15 years, allegedly had a sack thrown over his head and was bundled into a van by police on November 4.
Mr Johal is also said to have had his nipples and earlobes electrocuted.
The 30-year-old travelled to India to get married and was out shopping with his wife and cousin when he was arrested in Jalandhar in the state of Punjab.
Mr Johal has been accused of "running a magazine" in the UK about atrocities during the 1984 massacre of Sikhs in India and "influencing the youth through social media".
The Foreign and Commonwealth Office (FCO) said it takes allegations of torture "very seriously" and is taking action to check on his welfare, including requesting consular access to Mr Johal.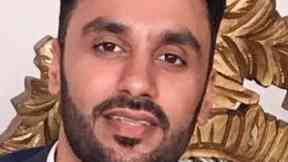 At a court hearing on Tuesday to extend his remand until the end of the week, Mr Johal's lawyer requested an independent medical examination of his injuries.
Footage shows Mr Johal, who works in internet marketing, being escorted into court by armed officers with a blindfold round his face.
Speaking to STV News, his brother Gurpreet said: "I am outraged by this. My brother has been tortured and when I saw the pictures from the court he looks emaciated and has lost a lot of weight.
"He has been tortured by being beaten and having electric shocks to his genitals. This has happened because the UK Government has not prioritised the case. They have given it no attention. They have made no leeway.
"He has been remanded until Friday when he will appear again. We are very worried about him and what will happen to him."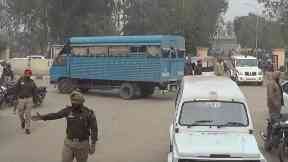 An FCO spokesman said: "We are in contact with the family of a British man who has been detained in India. Our staff have requested consular access from the Indian authorities so we can be assured of his welfare.
"We take all allegations or concerns of torture and mistreatment very seriously and will follow up with action as appropriate.
"When considering how to act, we will avoid any action that might put the individual in question or any other person that may be affected at risk."
The Sikh Federation UK said the 30-year-old should be enjoying married life but "finds himself the subject of some sort of conspiracy".
The organisation said it has contacted more than 100 MPs who are concerned about the case.
Bhai Amrik Singh, chair of the Sikh Federation, said: "The callous actions of the Indian authorities are sickening, but the Foreign Office and the British High Commission appear to be under pressure not to act and will be accused of looking the other way.
"The Prime Minister and foreignsSecretary will feel our pressure in the next seven days in Parliament via hundreds of MPs who have been contacted by constituents who are unhappy with the lack of action to secure Jagtar's immediate release and return to the UK."
Download: The STV News app is Scotland's favourite and is available for iPhone from the App store and for Android from Google Play. Download it today and continue to enjoy STV News wherever you are.