Dolly the sheep 'did not have early onset osteoarthritis'
Researchers found there were no abnormal developments in the cloned mammal.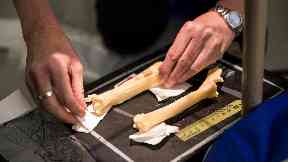 Dolly the Sheep did not cause early onset osteoarthritis, according to researchers at Glasgow University.
The findings, working in partnership with Nottingham University, show assessments of skeletons of Dolly and Bonnie - her naturally conceived daughter - found no abnormal osteoarthritis.
The radiograph shows the skeletons, which are stored by National Museums Scotland in Edinburgh, are similar to conditions observed in naturally born sheep.
Kevin Sinclair, professor of developmental biology in the School of Biosciences in Nottingham, said: "Our findings of last year appeared to be at odds with original concerns surrounding the nature and extent of osteoarthritis in Dolly who was perceived to have aged prematurely.
"Yet no formal, comprehensive assessment of osteoarthritis in Dolly was ever undertaken. We therefore felt it necessary to set the record straight."
Reports in 2003 that Dolly, the first animal cloned from adult cells, was suffering from osteoarthritis at the age of five led to considerable scientific concern and media debate over the possibility of early onset age-related diseases in cloned animals.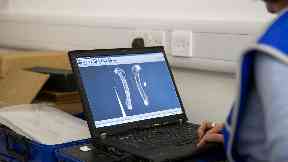 The only formal record of osteoarthritis in Dolly was a brief mention in a conference abstract, which reported she had osteoarthritis of the left knee.
In the absence of the original records, the Nottingham team decided to take to the road and find out for themselves whether the concerns were justified.
They travelled to Edinburgh and, with special permission from Dr Andrew Kitchener, principal curator of vertebrates at National Museums Scotland, undertook radiographic examinations of the skeletons of Dolly and her contemporary clones.
Prof Corr, of Glasgow University, said: "We found that the prevalence and distribution of radiographic-osteoarthritis was similar to that observed in naturally conceived sheep, and our healthy aged cloned sheep.
"As a result we conclude that the original concerns that cloning had caused early-onset osteoarthritis in Dolly were unfounded."
Download: The STV News app is Scotland's favourite and is available for iPhone from the App store and for Android from Google Play. Download it today and continue to enjoy STV News wherever you are.