Police officers probed over Emma Caldwell murder inquiry
Officers, who now work elsewhere for Police Scotland, face misconduct claims.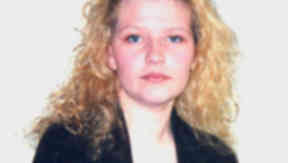 Seven serving police officers are under investigation for gross misconduct in connection with an inquiry into the murder of a woman more than a decade ago.
Emma Caldwell, who was 27 when she died, had been working as a prostitute when her body was found in woods near Roberton, South Lanarkshire, in 2005.
An independent review is now being carried out by the Police Service of Northern Ireland (PSNI) after it was revealed officers had illegally spied on journalists.
On Thursday, it was announced seven officers, who all formerly worked for the police counter corruption unit (CCU) but now work elsewhere in Police Scotland, have been placed on restricted duties.
Complaints were lodged by two serving and two retired officers regarding the data breach.
Giving evidence to Holyrood's justice sub-committee on policing, chief superintendent Alan Speirs said: "None of the officers are under suspension.
"The officers who are subject to this investigation at this time are subject to a number of duty restrictions.
"These officers previously had a role within the counter corruption unit. Their current roles are within a different area of the business."
Mr Speirs said no allegations of criminality arose during a previous inquiry conducted by Durham Constabulary.
A further force, Northumbria Constabulary, is carrying out a review of investigations into complaints against CCU staff from 2009 to 2016.
Mr Speirs said there were up to 24 complaints with 96 separate allegations, which are "largely historical" and from officers and ex-officers subject to investigation by the CCU.
He said he hopes the report from Durham Constabulary, the PSNI and Northumbria Constabulary will be published by Christmas.
Ms Caldwell's family released a statement through their lawyer Aamer Anwar.
It said: "There is real anger and shock that Police Scotland should choose to use Parliament to blurt out such information, thus compounding the agony of the Caldwell family.
"Emma's family have always felt a deep sense of betrayal at the hands of the first police inquiry team. Sadly, the CCU always appeared more interested in chasing journalists and law-abiding officers than those who let Emma's killer escape justice.
"However, the first priority for Emma's family remains the new murder inquiry which 12 years on has given them hope."
Mr Anwar called for the CCU, which was changed and reorganised as the Anti-Corruption Unit last year, to be disbanded and "held to account".
Police have been re-investigating the unsolved murder since the Crown Office asked them to do so in 2015 after the original investigation failed to bring the killer to justice.
In April this year, police revealed they were carrying out searches near where Ms Caldwell's body was found, and are investigating a potential new sighting of her on the day she disappeared.
Download: The STV News app is Scotland's favourite and is available for iPhone from the App store and for Android from Google Play. Download it today and continue to enjoy STV News wherever you are.