Former altar boy tells of abuse at children's home
William Connelly, 69, says youngsters were beaten and sexually molested at Smyllum Park.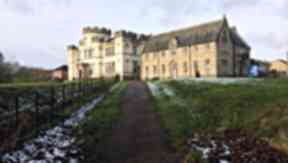 A former altar boy has waived his anonymity to tell a child abuse inquiry of beatings and sexual abuse at an orphanage.
William Connelly broke down in tears as he told the Scottish Child Abuse Inquiry of his experiences at Smyllum Park in Lanark.
The 69-year-old, who stayed at the children's home from 1958, spoke of almost daily beatings by nuns and care workers.
He also claimed a priest would perform a sex act on himself when hearing confession.
Mr Connelly made the decision to speak publicly because he said he wanted his alleged abusers to know it was not "some anonymous guy" who was giving evidence.
He told the inquiry how a "dodgy" priest would make the boys strip off their "dirty" clothes and rub their bodies with holy water.
Mr Connelly said: "If you went to confession and did something he didn't like to hear, like we had been masturbating, he would get upset and the nuns would know.
"We would make things up to please him, we knew he was masturbating. He would get excited by the things he was asking."
Mr Connelly told how one of the nuns seemed to get enjoyment from regularly beating him with a hairbrush and kicking him with "pantomime" boots.
On one occasion, he said he was attacked with scissors and left with cuts to his scalp and hands.
Older boys, who were put in charge of the younger residents, were said to sometimes make them pick a stick to beat then them with.
Mr Connelly said he forgave the nuns because he believed they were unhappy but rejected their joint apology.
He then became aware at the hearing that one of his alleged abusers was possibly still alive.
Mr Connelly said: "She's a liar. One of the reasons I made the decision to do this was because I wanted them to know it's me and not some anonymous guy."
He then broke down in tears, before adding: "I was hoping she was dead, you've just told me she's still alive - she's a liar."
Smyllum Park was home to more than 10,000 children between opening in 1864 and closing in 1981.
The inquiry was previously told a six-year-old boy died after being beaten by a nun at the orphanage over an incident involving a match.
More than 60 residential institutions, including several top private schools, are being investigated by the inquiry, chaired by Lady Smith.
Download: The STV News app is Scotland's favourite and is available for iPhone from the App store and for Android from Google Play. Download it today and continue to enjoy STV News wherever you are.