Man murdered lover's estranged husband by stamping on him
Ralph Goldie threw Jeremy Paradine down stairs then jumped on him in Cambuslang.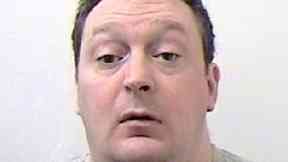 A man murdered his lover's estranged husband by throwing him down stairs then stamping and jumping on him.
Ralph Goldie, 40, threw 45-year-old Jeremy Paradine down stairs before stamping and jumping on his victim in Cambuslang, South Lanarkshire.
Mr Paradine, also known as Jerry, still lived with his estranged wife Maryanne Paradine while she had a relationship with Goldie.
He had allowed the pair to stay with him after she became homeless.
Days later, Mr Paradine was set upon by Goldie who told Mrs Paradine: "I've killed your husband."
Goldie was jailed for 14 years at the High Court in Glasgow on Thursday having earlier been convicted of the January 2017 murder.
Lord Arthurson said the evidence in the trial had been "disturbing".
The judge also read from a victim impact statement completed by Mr Paradine's distressed mother.
In it, she said her son's life had been "needlessly cut short" by "senseless violence".
It said: "A parent never expects to outlive their child."
Mr Paradine had been with Goldie at friend Martin McQueenie's flat in Cambuslang on the day of the killing.
'A parent never expects to outlive their child.'

Mr Paradine's mother
Mr McQueenie told the trial how he later recalled a noise similar to "rumbling going down the stairs".
He added: "I stood up to have a look to see what happened. Mr Goldie was about two or three steps down from the top.
"Mr Paradine was lying at the bottom of the stairs."
Mr McQueenie was then also attacked and ended up landing beside Mr Paradine.
It was the witness who later managed to alert police and identified Goldie as the culprit.
Officers discovered Mr Paradine surrounded by items including a yellow James vacuum cleaner from the Henry range and a broken shoe rack.
He never recovered having suffered a fatal head injury.
Mrs Paradine later recalled how Goldie called her to admit what happened and she initially thought it was "a wind up".
She told the court: "He said Jerry never fell down the stairs - he pushed him because he had made me homeless.
"He said to me: 'I've killed your husband'. I asked him: 'Why would you do that to Jerry?' He was a lovely person. I said: 'That is evil'."
Blood on Goldie's T-shirt, jeans and on the vacuum cleaner linked him to the scene.
He was convicted of murder and also of attacking Mr McQueenie.
Lord Arthurson said Goldie already had convictions for violence and that he appeared to have shown "no victim empathy" for what occurred.
Download: The STV News app is Scotland's favourite and is available for iPhone from the App store and for Android from Google Play. Download it today and continue to enjoy STV News wherever you are.