Gangsters behind bars after admitting string of charges 
The nine-strong gang includes cocaine baron Mark Richardson and gun-runner Martyn Fitzsimmons.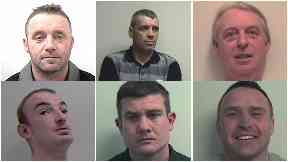 Members of a major crime gang are behind bars following a wide-ranging investigation into violence, drugs, firearms and dirty money.
The nine-strong gang includes cocaine baron Mark Richardson and army veteran turned gun-runner Martyn Fitzsimmons.
Prosecutors took the men to court over 28 charges including the shooting of underworld figure Ross Monaghan outside a Glasgow primary school in January.
Other charges included the attempted murder of gangland boss Robert Kelbie as well as allegations of £1.5m of hidden "criminal" cash.
The gangsters were due to stand trial in a case that was expected to last around three months.
Following a series of pre-trial hearings amid heightened security at the High Court in Glasgow, the gang members pleaded guilty to a number of the charges, bringing the trial to a halt.
Richardson, 30, who had been accused to trying to kill Monaghan and Kelbie, admitted having a Glock handgun while in Baillieston.
Fitzsimmons, 37, who had also been accused of involvement in the Monaghan attack, pleaded guilty to having a Glock and ammunition as well as hiding £36,000 of dirty money.
David Sell, 50, admitted being involved in the abduction of Robert Allan, who was taken from Yorkshire to East Kilbride, South Lanarkshire, before being tortured and repeatedly shot in the legs.
Anthony Woods, 44, Francis Mulligan, 41, and Michael Bowman, 30, each accepted roles in "serious organised crime".
Gerard Docherty, 42, pleaded guilty to recklessly discharging a firearm at a house while 33-year-old Steven McArdle admitted having a Glock firearm.
Barry O'Neill, 37, admitted being concerned in the supply of cocaine.
The charges for the nine span between 2013 and 2017.
Judge Lord Beckett remanded them all in custody and adjourned the case until later this month.
Prosecutors have also made applications for the gangsters to be hit with serious crime prevention orders.
The move, believed to be a first for a Scottish high court, is designed to tackle the country's organised criminal gangs.
The original indictment stated a charge that the nine had agree to "commit and organise the commission of serious offences".
A number of locations across Scotland, including Glasgow and West Lothian, as well as the north of England, were listed.
Other accusations included the January 2017 shooting of Ross Monaghan, previously cleared of the murder of gangster Kevin "Gerbil' Carroll.
But prosecutors accepted not guilty pleas from Richardson and Fitzsimmons - the only two charged with taking part.
It was further claimed Richardson, Docherty and McArdle had tried to kill Robert Kelbie in Newbridge, Edinburgh, in September 2016.
Docherty instead pleaded guilty to an amended charge of discharging a firearm at a property to the danger of others.
Prosecutors did not give further facts of the crimes the gang pleaded guilty to.
More information is expected to be heard when the group next return to the dock.
The nine men were all detained in custody and will return to court at a future date to be sentenced.
Detective chief superintendent Gerry McLean said: "The nine men who pled guilty were involved in the most serious criminal activity, including firearms, drug dealing and extreme violence.
"They were responsible for bringing fear and misery to communities across Scotland and we welcome the fact that they have been brought to justice and admitted their involvement in the face of a wealth of evidence."
Download: The STV News app is Scotland's favourite and is available for iPhone from the App store and for Android from Google Play. Download it today and continue to enjoy STV News wherever you are.