Boy who died in orphanage buried without headstone
Samuel Carr died of a brain haemorrhage at Smyllum Park in Lanark at the age of six.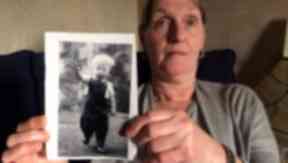 The sister of a boy who died at an orphanage has told an inquiry he was buried without a headstone despite promises from staff they would pay for one.
Anne Marie Carr, who has waived her right to anonymity, attended Smyllum Park in Lanark between 1960 and 1964 along with her brother Samuel.
In December, the Scottish Child Abuse Inquiry heard the boy died of a brain haemorrhage at the age of six following an E Coli infection, which he could have caught by touching a dead rat.
Ms Carr told how her grandfather and uncle attended his funeral and were to pay for a headstone but were told not to because the Catholic-run home would foot the bill.
She said: "We were told that they would get a headstone for him as a worker was fond of him but there was never a headstone."
Before a forensic expert gave evidence last year about the boy's cause of death, claims had been made that Sammy died in 1964 days after being beaten by a nun at the institution, which closed in 1981.
Ms Carr, now in her 60s, said nuns would hit children with rosary beads and crucifixes, while residents could be forced to sit at a kitchen table through the night until morning if they did not eat their food.
She also claimed a girl was scalded with hot water in a bath for being "cheeky" to a nun.
Meanwhile, another former resident broke down as he told of witnessing the death of his friend Francis McCall after being hit on the head with a golf club.
'We were told that they would get a headstone for him as a worker was fond of him, but there was never a headstone.'

Anne Marie Carr
William Wicher stayed at the orphanage, which was run by the Daughters of Charity of St Vincent de Paul, between 1957 and 1963.
The 69-year-old said he suffered bullying because of his "small" stature and received regular corporal punishment from nuns and workers.
According to Mr Wicher, who also waived his right to anonymity, a blow to the ear by one staff member left him hard of hearing for the rest of his life, while he also lost part of his tooth after a beating from a nun.
The inquiry heard how children had been playing a game with a golf club when the boy, known as Frankie, was accidentally struck on the temple.
Mr Wicher broke down when it dawned on him the reason his friend did not know he should move away was because he was also "partially deaf".
He said: "What's happened is when the kid's gone to move back, Frankie wouldn't have heard him - that's what happened, he just didn't hear him.
"Up until this point it never made sense, until now."
The inquiry before Lady Smith in Edinburgh continues.
Download: The STV News app is Scotland's favourite and is available for iPhone from the App store and for Android from Google Play. Download it today and continue to enjoy STV News wherever you are.