Hamilton Accies plan legal action against RBS over £1m scam
The Premiership club admits being at fault but say bank security should have been stronger.
Hamilton Accies are planning legal action against the Royal Bank of Scotland after falling victim to a £1m scam.
The Premiership side claim "failures" in the RBS security system allowed fraudsters to walk away with nearly "every penny" of the club's money.
Accies say that RBS should shoulder "50%" of the blame over the fraud. They are calling for a payment of £400,000 from the bank to offset their losses.
The club's claims include:
Two key opportunities being missed when the RBS security team contacted the Accies worker after the first two unusual transactions;
RBS failed to contact a second member of the club, despite unprecedented sums leaving their accounts;
The club's chief executive being able to access balance and payee information from RBS without security checks despite not being a signatory on any of their accounts.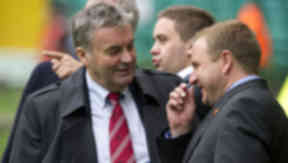 RBS has issued a robust denial it mishandled the club's account information, stating there were no lapses in security. The bank added that it repeatedly offered the club advice on its banking arrangements prior to the fraud.
Police are investigating last October's "vishing" scam that saw phone scammers convince an Accies employee to move cash into 26 accounts to prevent theft.
Three accounts belonging to Hamilton Accies were emptied of more than £989,000 on October 9 and 10.
The first two payments - of £40,000 and £70,000 - were initially suspended by RBS's cyber security team.
The employee - sole authorised user of the club's Bankline accounts - was convinced to ignore the warnings and continue the transactions.
"You wouldn't need to be Sherlock Holmes to see something was wrong here," said Colin McGowan, the club's chief executive.
"On day two, £655,000 went out with 20 transactions. These weren't challenged once.
"I've repeatedly asked the bank if they had better security on day one than on day two. They made no attempt whatsoever to contact a second person, even though they've intervened twice, they suspected something was wrong.
"Since the club was formed in 1874, we've never made transactions like that."
He continued: "We're talking about nearly a million going out in 24 hours.
"Did they say, 'Oh, that's pretty normal. It's funny, that million pound is going to people they've never paid before. It's in round figure sums... Oh, it'll be all right'.
"Maybe the lassie was going for her tea or something. It's absolutely unacceptable.
"A million pound going out Hamilton Accies Football Club? Get real."
'I'm saying Hamilton Accies are at fault here. I think we're at fault for 50 per cent of it. And I believe the bank's failings were in their security and duty of care.'

Colin McGowan
Mr McGowan states that Accies lost "close on every single penny" during the con. He added the club is still experiencing "traumatic aftershocks".
Since the scam, Accies have recovered some of the money through suspended transactions - but they are still £800,000 out of pocket.
He also claimed he was able to obtain financial information about the club from a bank employee without passing security checks.
In response, RBS said an employee who provided account information to Mr McGowan had previous discussions with the chief executive and felt "confident in recognising Colin's voice".
The bank added: "As an authorised official of the club, he was entitled to receive the information he was requesting."
Mr McGowan said: "I'm not holding RBS wholly responsible for this. Hamilton Accies have to stand up and say, 'Yes, we are partially to blame here, our employee made a grave error in judgement'.
"I'm saying Hamilton Accies are at fault here. I think we're at fault for 50 per cent of it. And I believe the bank's failings were in their security and duty of care."
Chairman Ronnie MacDonald also criticised the RBS security.
He told STV News: "To write a cheque for our community programme, we need two signatories if it's over £1500.
"And yet, over a period of 24 hours, a million pounds can be removed from our account.
"I'd have liked to have seen the bank check with a director if that was the case. That would have triggered all sorts of alarms in our place."
Mr MacDonald said Accies' board were "determined" to avoid administration after the scam.
"Now that we are out in the open and we know exactly where we are - in other words, we're abandoned - I'll get the fans up to speed," he said.
"We're in a strange position now of not owing anyone any money, but not having any money going forward.
"We've got to dust ourselves off, assume that no assistance is coming from the bank and continue the way we've always done."
Hamilton Accies have instructed law firm Levy & McRae to prepare a case against the bank.
RBS said: "The bank is confident that there has been no breakdown in our security procedures in regards to this scam and that no unauthorised persons were able to gain access to any of the club's banking facilities.
"All payments were keyed and approved by the authorised user of the club's account. The bank contacted HAFC (Hamilton Academical Football Club) to question the transactions on two separate occasions and the customer instructed the bank to continue with the payments.
"We take the financial security of our customers extremely seriously and understand the distress that fraud and scam cases can cause.
"We are working with HAFC and supporting Police Scotland to identify the perpetrators of this scam."
Download: The STV News app is Scotland's favourite and is available for iPhone from the App store and for Android from Google Play. Download it today and continue to enjoy STV News wherever you are.