Sacked doctor 'drew up revenge plot based on action film'
Martin Watt amassed a hoard of guns and ammunition after he lost his job as an A&E consultant.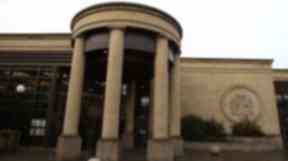 A former doctor drew up a bloody plan for revenge based on an action film after he was dismissed from his job, a court was told.
Jurors at the High Court in Glasgow were told how Martin Watt lost his job as an A&E consultant at Monklands Hospital in Airdrie in 2012.
The 62-year-old, who had amassed a hoard of guns and ammunition, said he had then "assessed" how to kill those he held responsible for his dismissal.
He said the plan was based on the plot of Robert De Niro's 2011 film Killer Elite, in which a group of mercenaries are contracted as assassins.
Watt had compiled a list of "bad guys" including details of individuals linked to earlier disciplinary proceedings against him.
However, he claimed the plans were just "a game" and he had no intention of carrying them out.
When police searched Watt's Cumbernauld home in 2017 they discovered three Skorpion submachine guns, two pistols and 1500 rounds of ammunition.
Officers also found addresses and car registrations of individuals involved in Watt's dismissal.
His QC John Scott asked Watt: "What were your feelings towards these people?"
The accused replied: "Monumental disappointment. I felt so cheated.
"They were trying to make me look like things I was not - being incompetent, racial abuse was also one.
"They were not allowing me to clear my name."
Watt then told the court how he had "assessed how to assassinate" people on the list and "expressed my thoughts on paper".
When asked if he planned to carry out his plan he replied: "No."
"Playing out the retribution game on paper gave me some sort of comfort," he added.
Prosecutor Alex Prentice QC later suggested Watt was someone who "harboured a grudge" and stated police had found a "significant arsenal of lethal weapons".
The advocate depute said Watt had gathered information "with a view to take some kind of action" against people, though Watt denied this claim.
Mr Prentice concluded: "Police Scotland played a valuable service by capturing you when they did."
Watt replied: "I do not see myself as a danger to the public or would have allowed these weapons to fall into criminal hands."
Watt's defence has tendered pleas of guilty to a string of charges of possessing various firearms, including three submachine guns and two pistols.
He denies the remaining charge of possessing the weapons "with intent by means thereof to endanger life" between March 2013 and May 2017 and the trial continues.
Download: The STV News app is Scotland's favourite and is available for iPhone from the App store and for Android from Google Play. Download it today and continue to enjoy STV News wherever you are.