Dog walker caused death of pets by leaving them in hot van
Helen Campbell claimed to have "lost track of time" during a business meeting in Glasgow.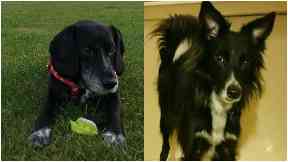 A dog walker has narrowly avoided jail after she left eight pets in the back of a hot van, causing the death of two of them.
Helen Campbell, 59, owner of Nose2tail-K9 care, claimed she "lost track of time" during a business meeting as temperatures soared on June 14 last year when she had the dogs in her care.
When she returned to the back of the van outside Knightswood Community Centre, in Glasgow, Milly and Cody were already dead and Spencer and Kobe were suffering from heat stroke.
She took the dogs to the vets where the families met them.
Initially she denied what happened and claimed the dogs had run off before she found them like that.
Campbell, from Anniesland, pled guilty at Glasgow Sheriff Court to two charges under the Animal Health and Welfare Act, of confining the dogs within her van, exposing them to excessive temperatures and failing to provide water and ventilation and immediate medical treatment.
One charge relates to Milly and Cody dying and the second is causing two other dogs, Kobe and Spencer to suffer heat stroke.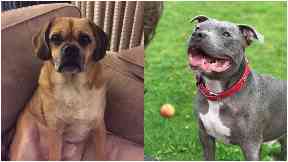 Sheriff Peter Grant-Hutchison said he must consider "the incredible breach of trust" and said "it's open to me to impose a custodial sentence".
He continued: "I believe you are truly contrite, and so you should be."
The sheriff handed her a community payback order with 116 hours unpaid work to be completed within nine months and disqualified her from keeping animals for 20 years.
He added: "You are very fortunate not to have a prison sentence imposed."
Speaking outside court Matthew Stables, whose fiancé Julia McGill is Cody's owner said: "I think she should have went down for it."
Owner of Milly, Lynne Reid-McConnell found out her dog had died over the phone and raced to the vets on Crow Road, Glasgow.
Mrs Reid-McConnell later learned the dogs had been kept in 21 degree heat in the van for three hours.
She said "On the day when it happened she told us a pack of lies, it didn't ring true, but at the time with the shock of what had happened, it took a while to process it all and it was the following day my daughter put a post on Facebook and the response she got to that was amazing.
"The next day I reported it to the SSPCA."
'She just said 'there has been a terrible accident and Milly has died'. Very blunt, she said she was on the way to the vet.'

Lynne Reid-McConnell
She wrote a heartfelt letter to the procurator fiscal detailing her grief and pain at losing Milly and the loss the family have felt since she died.
Mrs Reid-McConnell added: "She just said 'there has been a terrible accident and Milly has died'. Very blunt, she said she was on the way to the vet.
"I just ran to the taxi rank and I was at the vets before she was. I saw Cody's family there.
"She told me some ridiculous story on the phone that the dogs were swimming they became frightened by something and ran off and by the time she found Milly she was dead.
"Milly was soaking wet and she was very hot, this obviously aroused the vet suspicion and took her temperature.
"Her body temperature was two degrees above what it should have been if she was alive."
Mrs Reid-McConnell added: "I am looking forward this being over so that I can remember all that was wonderful about Milly and the joy that she brought to our lives, without it being tainted with the pain that the ongoing pursuit of justice for the horror of her death brings."
Defence lawyer Richard McKay said Campbell parked the van outside the community centre and went inside to "compete financial paperwork relating to the business".
He said the business was "under pressure" and the dealing with paperwork "went on much later than anticipated, Mrs Campbell lost track of time".
Mr McKay said what happened then as "sheer terror and panic" and did try and cool the dogs.
He told the court: "Mrs Campbell is utterly ashamed to admit initially she did not advance what had happened.
"She puts that down to her panic at the time, she admits she tried to deny culpability."
Download: The STV News app is Scotland's favourite and is available for iPhone from the App store and for Android from Google Play. Download it today and continue to enjoy STV News wherever you are.