Inquiry into abuse of army recruits in Scotland collapses
Sixteen instructors allegedly abused 28 teenage recruits in Dumfries and Galloway.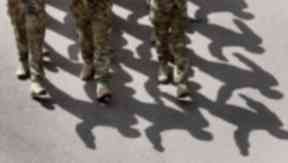 An investigation into the alleged abuse of army recruits in Scotland collapsed after the Royal Military Police mishandled the inquiry.
A judge branded the three-year probe "seriously flawed" as he halted the first of three court martials linked to the case.
The abuse supposedly took place at a camp in Kirkcudbright, Dumfries and Galloway, in 2014.
It was alleged 16 instructors mistreated 28 teenagers assigned to the Army Foundation College in Harrogate, North Yorkshire.
The recruits claimed instructors would slap, punch and grab them by the throat, submerge their faces in mud and order them to eat manure.
However, after eight days the prosecution offered no evidence to support most of the charges the first ten defendants faced and five were acquitted.
The trial of the other five instructors continued for another day until assistant judge advocate general Alan Large stayed proceedings, ruling they could not get a fair trial.
The prosecution then said it would offer no evidence against the remaining six.
Judge Large condemned the Royal Military Police (RMP) for a "seriously flawed" and "totally blinkered approach" to its investigation.
The officer leading the investigation, captain Teresa Spanton, did not question eyewitnesses because she believed they would lie - a decision described by the judge as "startling".
It also took two years to interview the accused soldiers under caution and another 12 months before they knew they were being charged.
During the court martial, several teenagers gave evidence which conflicted with their original written statements given to the RMP.
Some recruits were accused of lying by barristers and others alleged they had been forced to make statements.
The court martial was held in February but the proceedings could not be reported until Judge Large lifted a restriction on the case.
An Army spokeswoman said: "Despite the outcome, we will consider carefully whether any internal disciplinary action is necessary.
"Given this ruling, the Service Prosecuting Authority and the Royal Military Police will be conducting a review to ensure that lessons are learned."
Download: The STV News app is Scotland's favourite and is available for iPhone from the App store and for Android from Google Play. Download it today and continue to enjoy STV News wherever you are.