Man guilty of murder after shooting driver twice in head
David Scott was convicted of killing Euan Johnston at traffic lights in November 2016.
A man has been found guilty of murdering a driver by shooting him twice in the head while he was stopped at traffic lights.
Gunman David Scott, 33, was convicted of the murder of Euan Johnston and ordered to serve at least 22 years in prison.
Mr Johnston, 26, known as EJ, died from his injuries after the shooting in Glasgow in November 2016.
The jury delivered a guilty verdict against Scott following a trial at the city's High Court.
Scott, from Glasgow, was part of a gang which planned the execution of father-of-two Mr Johnston.
He was caught because he left behind a hooded top in the getaway car, an Audi Q5, which was abandoned and set ablaze.
Painstaking work by forensic scientists recovered fragments of the badly-burned top Scott had worn during the crime, with his DNA found on his zipper.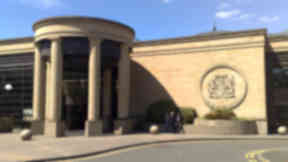 Police also discovered CCTV footage of the gang carrying out surveillance on Mr Johnston's movements shortly before his death.
Scott murdered Mr Johnston, while acting with others unknown, by repeatedly firing a gun at him on November 15, 2016, at the junction of Shields Road and Scotland Street in the south of the city.
Judge Lady Stacey told Scott on Wednesday: "You coldly and deliberately cut a man's life short, leaving a grieving family.
"You carried this out in a public street and showed no regard to not only your victim but also to members of the public.
She added: "The attack was a premeditated murderous assault which involved a lethal weapon.
"It has correctly been called an execution and was carried out in a public street. You have many convictions for crimes of violence."
The court heard that Mr Johnston was sitting in his Audi RS4 at the junction of Shields Road and Scotland Street at 11.40pm.
He and his friend Brian McMahon, 31, had just left the nearby Red Pepper restaurant in St Andrews Road where they had eaten.
Mr Johnston was waiting for the lights to change to green and chatting to his partner Danielle Carruthers on the phone when an Audi Q5 drove alongside and three shots rang out.
Two of the bullets hit Mr Johnston, who was known as EJ, in the head. One went through his brain causing an unsurvivable injury.
The third bullet hit rubber around the driver's door of Mr Johnston's car.
At the time of the shooting described in court by prosecutor Alex Prentice QC as "a well-planned execution", Mr Johnston was awaiting trial at the High Court on charges of dealing £640,000 worth of heroin.
In evidence, Ms Carruthers, 33, who had a child with Mr Johnston, said she phoned him to see what time he would be home.
"There was a revving off the car and a loud bang. I was shouting: 'Euan are you alright?'"

Mr Johnston's partner Danielle Carruthers
She said: "He said he was on the way to drop his friend Brian McMahon off and would be home soon.
"Immediately after he said that there was a revving off the car and a loud bang. I was shouting: 'Euan are you alright?'
" I didn't know what had happened. It wasn't until I heard Brian screaming 'Euan, Euan, Euan,' over and over again I knew something was wrong."
Ms Carruthers said she then heard someone say: "EJ has been shot in the face."
The court was shown CCTV footage which illustrated the timeline of the shooting of Mr Johnston.
After the jury returned their verdict Mr Prentice told the court that Scott had a number of previous convictions for carrying weapons and violence.
Scott showed no emotion as he was led away to begin his sentence.
His co-accused Anthony Ruthven, 33, was cleared of murdering Mr Johnston after prosecutor Alex Prentice withdrew the charges against him during the trial.
Detective superintendent Jim Kerr, senior investigating officer in the case, said: "We welcome the conviction of David Scott.
"This was a pre-planned, cold blooded murder of a young man in the middle of a busy area, and despite being targeted, was an act which was cowardly and without regard for any innocent bystanders who may have been in the vicinity.
"This type of violence involving illegal firearms will not be tolerated and regardless of who is involved, no one should be on our streets discharging them.
"Organised crime is a serious issue that affects individuals, communities and businesses across Scotland."
He added: "Our extensive investigation revealed to us that there was more than just one person at the scene of the shooting and we would ask anyone who has information that may be useful to contact police.
"Any new information will be thoroughly investigated."
Download: The STV News app is Scotland's favourite and is available for iPhone from the App store and for Android from Google Play. Download it today and continue to enjoy STV News wherever you are.