House bursts into flames after 'struck by lightning'
Crews battling fire at large detached property in East Dunbartonshire.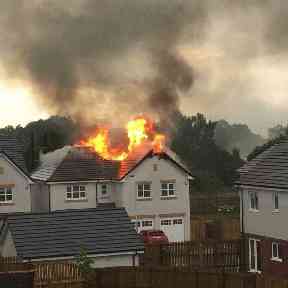 Lightning is believed to have caused a huge fire at a house near Kirkintilloch in East Dunbartonshire.
Photos across social media have revealed flames and smoke bellowing from the roof of the detached property in Woodilee estate.
Fire crews have been battling the blaze at the two-garage detached property on Corn Mill road.
According to local residents the house burst into flames when it was struck by lightning during a storm on Saturday evening.
STV weather presenter Sean Batty said: "Over the last 24 hours we've pulled in some very unstable air from Ireland, which has allowed large cumulonimbus thunder clouds to bubble up in this afternoon's heat. Temperatures reached 23C in Glasgow and Oban, pushing cloud heights up to around 30,000ft.
"With the heat over the Glasgow area and a slight south-westerly flow, this meant that showers bubbling up over the city drifted north and east towards the likes of Cumbernauld and Stirling. Areas around the north and east of the city had some very large rainfall rates and there were reports of large hailstones, approximately 2cm in diameter."
He added: "Around 5.30pm intense pulses of rain started to develop within the storms, which were lined up Bishopbriggs, Lenzie to the Mollinsburn area, which continued for just over an hour. Rainfall rates became violent at some points, reaching around 100mm/hour. If the house was struck by lightning, then it's likely that this storm was responsible for it."
A spokesman for the SFRS said: "We are in attendance. We received a call that a house in Kirkintilloch was struck by lightning at 5.45pm on Saturday evening.
"There are no reports of any casualties and we are still at the scene."
Storms have also been reported today in parts of the Highlands, Stirlingshire and Perthshire. There is a risk of more thunderstorms tomorrow, although these won't be as frequent, widespread or as intense as today's.
The main areas at risk of thunderstorms on Sunday will be inland Aberdeenshire, Angus and Perthshire as well as across the Borders.