Insect burgers being served up at community barbecue
The event in Glasgow hopes to promote insects as a sustainable food source.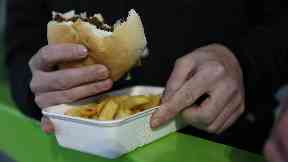 Insect burgers will be on the menu this weekend at the Glasgow Science Festival.
As a protein rich alternative to beef, pork and chicken, burgers containing dried locusts, grasshoppers, mealworms and ground insects will be served up at a public barbecue.
The insects will be mixed up with cauliflower, mushrooms and yoghurt.
As part of Caledonian University's Community Science day on Saturday, the burgers will be served up to highlight food sustainability.
Dr John Butcher, lecturer in Food Bioscience and Microbiology at the university, has sourced the insects from a specialist supplier in Holland.
Dr Butcher said: "Trends on how we consume food can change quickly.
"With exposure to things on television, there's much more of a restaurant culture developing in the UK and a willingness to try new things. Celebrity chefs can drive that change.
"Although in the west we are not really used to eating insects, billions of people are eating them every day as a source of high protein.
"Around 80% of the countries in the world eat insects, it's just not popular in North America or Europe."
The barbeque will take place in The Barn Youth Centre, in the Gorbals.
The event is open to all member of the public and includes a range of fun activities based around science, technology, engineering and maths.
Dr Butcher added: "Food security means everyone in the world should be able access to the nutritious food that they need regardless of their social or economic background.
"When we were doing this we were concerned about how safe they were to eat but they meet all the requirements for environmental health.
"A lot of people choose vegetarianism or veganism not because of health issues but mostly for emotive reasons.
"They are compassionate, they feel that what is happening around farming is cruel or unnecessary.
"The thought is that if you farm insects the footprint they have is a lot smaller than if you farm other traditional forms of livestock, cows, pigs, sheep.
"You can feed them organic waste, such as potato peelings, and they can thrive on that. The big bonus is that they are all rich in protein."
Download: The STV News app is Scotland's favourite and is available for iPhone from the App store and for Android from Google Play. Download it today and continue to enjoy STV News wherever you are.